European Research Area (ERA)
European Commissioner Philippe Busquin launched the idea of the European Research Area back in November 2000. "The problem is not money but fragmentation of the efforts carried out at European level," he had said. "So it is imperative that we mobilise resources and create a movement towards coherence of research policies in Europe."
This statement introduced the European Research Area (ERA), which aims at creating a unified research area open to the world, and enabling the free circulation of researchers, scientific knowledge and technology. Most importantly, ERA is based on the European internal market. It aims to inspire the best talents to enter research careers, to incite industry to invest more in European research and to strongly contribute to the creation of sustainable growth and jobs. The Framework Programmes are instruments to achieve the ERA objectives.
If you want to know more details about the history of the ERA, check out this glossary article and this news article on our website.
In 2018, the Council of the EU and the European Commission initiated a process to renew the ERA, and establish a new ERA narrative, new objectives and a more effective ERA governance in order to
make it future-proof
make it better able to address the major challenges of the digital and green transition
increase Europe's resilience following the Covid-19 crisis.
In late 2021, the Council of the EU adopted a Pact for Research and Innovation with values and principles guiding research and innovation and priority areas for joint action as a first key achievement.
In addition to this new governance framework, an ERA Policy Agenda with 20 voluntary actions to contribute to the priority areas of the Pact for R&I has been defined for the time period of 2022 to 2024.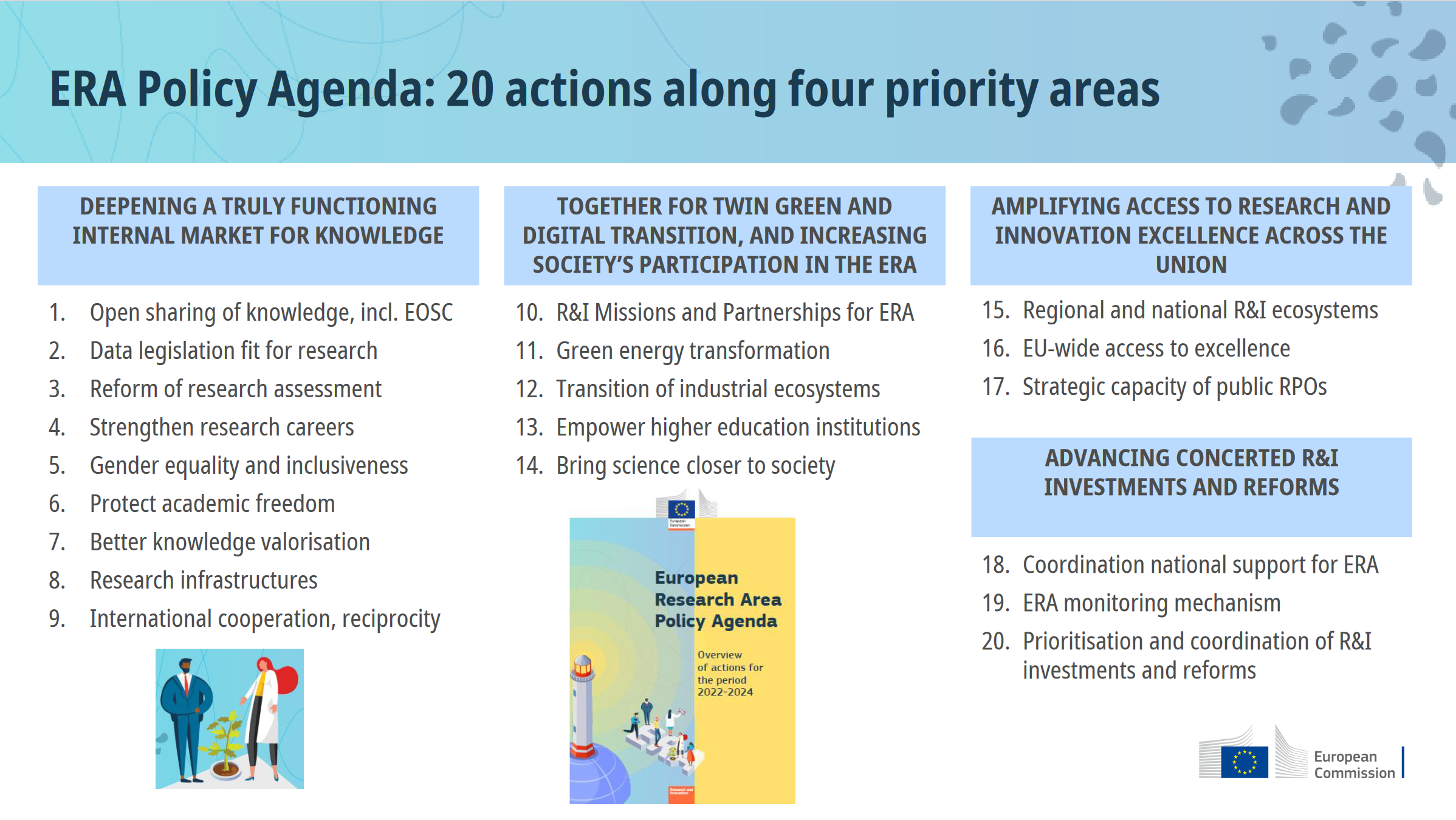 Source of image: Presentation of DG Research and Innovation at the Meeting of the Steering Platforms in Skopje, 2023