HEALTHY SOCIETIES: Building a Healthy Society - Addressing Challenges in the Western Balkans [Parallel session 1, POLICY ANSWERS Conf. 2023 Sarajevo]
World Café Discussions
Table 1: Digitalisation Process and Use of Artificial Intelligence in Health

Facilitator: Vukasin Radulovic, President of Healthcare Alliance, Heliant, Serbia

Table 2: Sustainable Financing for Healthcare – Exploring the Strength and Opportunities of Private Healthcare

Facilitator: Jasmina Knezevic, Founder and Supervisory Board Member, Acibadem Bel Medic, Serbia

Table 3: Driving Health Care Progress: Infrastructures, Sustainability and Green Agenda in Health Care

Facilitator: Mladenka Vujosevic, Advisor for Environmental Protection, Institute of Public Health, Montenegro

Table 4: Health Workforce Challenges: Organisational Factors, Human Resources and Financing Instruments

Facilitator: Aida Pilav, Professor, Faculty of Health Studies, University of Sarajevo, Bosnia and Herzegovina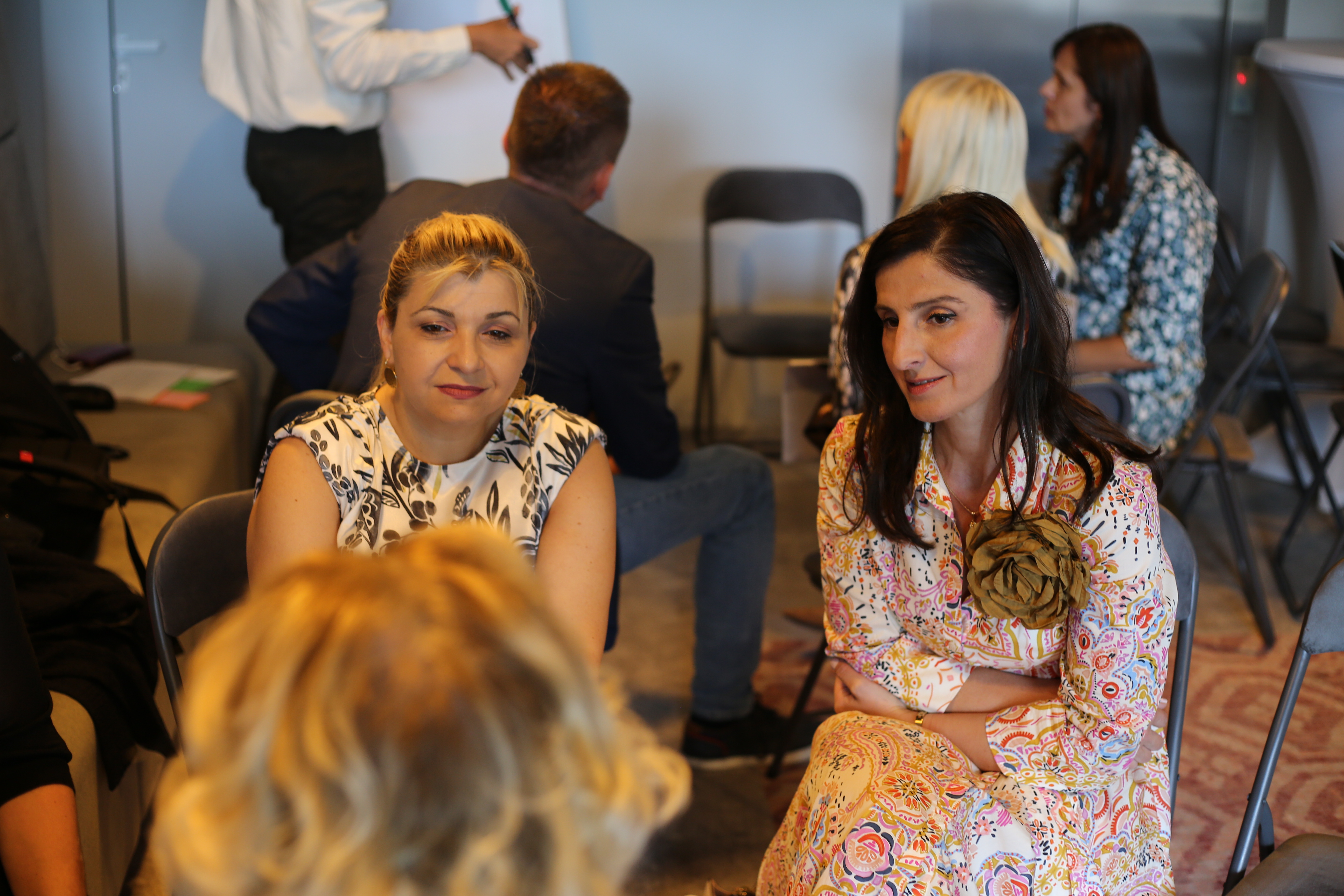 Marija Jevtic, who is an esteemed regional expert for health, summarised the findings of the word café discussions and we are sharing her valuable insights below. Additional information and her concluding remarks can also be read in the attachment below. If you are interested in further discussions regarding the findings below, visit our event report on the second parallel session on healthy societies.
Table 1
We must continue collaborating and sharing knowledge with our neighbours and European partners. Serbia led the way in adopting digital solutions, like telemedicine and e-prescription, during the pandemic and beyond. Let's share and learn from our friends' successes.
The future won't wait for us! Healthcare software and AI are now integral parts of daily medical practice. We must enhance the digital skills of our healthcare workforce by incorporating digital education in high school and university curricula.
The Western Balkans have made progress with digital healthcare solutions, but there's room for improvement in recognizing the importance of high-quality data and data standards.
Table 2
Possible SOLUTIONS and actions:
Digitalization, AI, Telehealth services, Robotization - opportunities
Focus on screening programs and prevention
Professional management to lead hospitals
Use existing private sector resources to reduce waiting lists
Public Health Insurance reform - to determine the cost of each service - "money should follow patient"
Promote entrepreneurship in healthcare as a way to retain healthcare workers in region
Relaxing communication between WB countries

Recognition of diploma between counters in WB
Work permits through same ID number in WB
Table 3
Based on the presented experiences and practices of the health systems of WB countries to achieve goals of sustainable development and the principles of the Green Agenda, an opportunity is created to work more visibly on the improvement of the strategic and legislative framework, at the national and regional level.
The possibility to promote innovative activities in the provision of health care with low carbon presence in accordance with the principles of the Green Agenda, both nationally and in the region of WB countries with animation of potential partners (WB, EU, WHO...)
The possibility of organizing trainings, webinars, meetings and joint access to writing projects for healthcare systems that are in line with the principles of the Green Agenda of WB countries.
Promotion of projects in health systems that have improved the fight against climate change, or that have achieved results for increasing energy efficiency and decarbonisation, in order to overcome problems of providing additional financial resources for their continuation by partners WB, EU, WHO...
Table 4
The ability of the health system to provide good and appropriate services, as well as to respond appropriately to the new challenges that the system faces, is conditioned by: the availability of health professionals with the right skills and knowledge in sufficient numbers, located where they are needed and working in an environment that motivates and engages them.
Countries need to develop policies that will ensure - the availability of sufficient numbers of healthcare professionals - by profile and number, with relevant skills, competencies and motivation to provide health services to the population
Focus on - vital areas of education and training for the health workforce, migration and retention, execution and management.
HEALTHCARE professionals: From a management standpoint, the workforce framework focuses on modulating the role of the labour market and government action in key decision-making
Workforce input: Preparation of the workforce through strategic investments in education and practices of effective and ethical employment
Workforce: Strengthening health care delivery through better management of workers in both the public and private sectors
Workforce exit: managing migration to reduce wasteful loss of human resources
Meetings with European Partnerships' Representatives
Table 1: Stakeholder Meetings with European Partnership

Laura Marin, Coordinator, European Partnership: One Health Antimicrobial Resistance, (OHAMR), Sweden

Table 2: Stakeholder Meetings with European Partnership

Adam Strzelecki, EIT-Food Senior Project Manager, European Partnership: EIT-Food, Poland
Dedicated bilateral meetings were organised within the conference to enable the European partnerships and representatives of the relevant ministries and funding organizations from the WB economies to briefly meet and exchange. Visit our event report entry to find out more about these bilateral meetings and their presentations here.
The copyright of photos included in this entry belongs to POLICY ANSWERS.
Country
Bosnia and Herzegovina
Scientifc field / Thematic focus
Cross-thematic/Interdisciplinary

Entry created by Admin WBC-RTI.info on September 13, 2023
Modified on October 3, 2023