Award for Good Practices in Responsible Research and Innovation in the Western Balkans - Submit before 31. December 2022 !
A Call for Submission of Good Practices in Responsible Research and Innovation (RRI) from the Western Balkans has been launched by the WBC-RRI.NET project in February 2022 with a deadline for September 2023.
The project has recently announced a Competition!
Submit your Good Practice before 31 December 2022 and receive a special AWARD!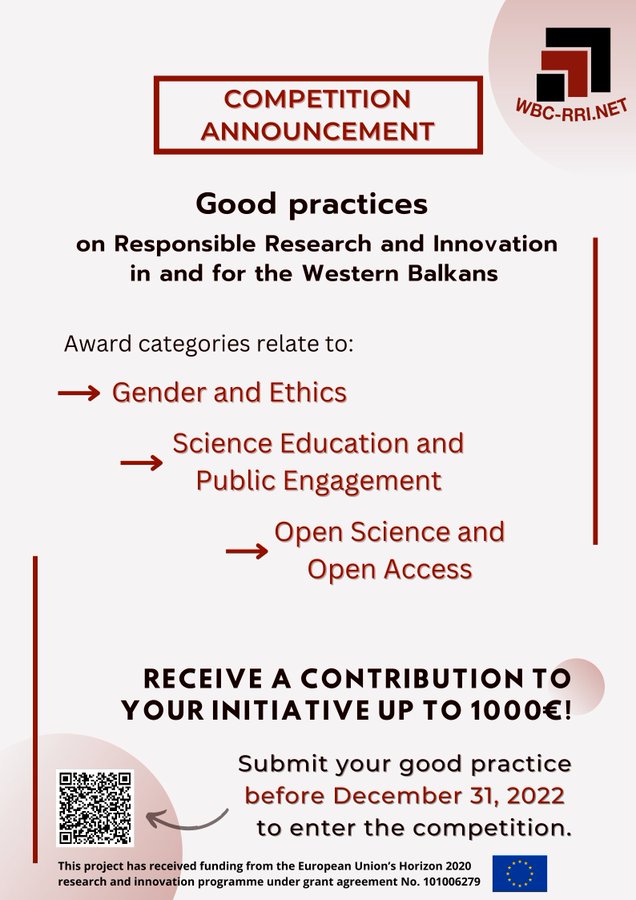 What is this call about?
The project wants to engage a growing and diverse number of stakeholders in research and innovation to highlight the existing initiatives working on these issues and thus inspire more peers to follow suit. The aim is to facilitate networking and peer learning, as well as the sharing of good practices to ultimately improve the regional research and innovation ecosystem.
There are already vast experiences in the region and WBC-RRI.NET wants to promote the success cases, inspire partners to join efforts, increase the impact of the actions by sharing them and support stakeholders to explore together the transferability of good practices.
With this call for submission of good practices, the aim is to surface and show-case good practices within the region, gain insight into running initiatives, reflect on practical experience. WBC-RRI.NET also strives to strengthen these practices and their coordination, build relationships and collaboration opportunities based on a culture of mutual exchange and learning.
What is a good practice?
Your good practice are processes, initiatives or working methods that have proved successful to introduce or implement a RRI related practice or to optimise the performance of RRI related activities. A good practice is practically a successful response to address RRI challenges, ranging from policy development, promotion of RRI, capacity building, through products, processes or services and intra-organisational tools.

For more information about this Call, visit the dedicated Call Page on our WB Info Hub linked below!
Scientifc field / Thematic focus

Entry created by Admin WBC-RTI.info on December 2, 2022
Modified on February 3, 2023