News archive - [Event review] - Western Balkans Steering Platform R&I and Ministerial Meetings (Brussels, 23-24 September 2019)
The Western Balkans (WBs) Steering Platform on Research and Innovation R&I and Ministerial meetings were organised in Brussels on 23rd and 24th September 2019. The event was co-chaired by the European Commission (DG Research and Innovation, Directorate for International Cooperation), the Finnish presidency of the Council of the European Union and Bosnia and Herzegovina on behalf of the Western Balkans. On 23rd September in the morning, the Regional Cooperation Council organised a meeting to discuss on Horizon Europe and the WB related position paper. The preparation of the Ministerial session has continued in the afternoon and the debated focused on Smart Specialisation, Research infrastructures and Mobility of researchers among other topics. On September 24th, the Ministers responsible for Science and Innovation have eventually gathered for a joint debate.
Presentations held at the meeting can be found below and linked with the respective items on the agenda. Minutes and Conclusions are under elaboration and will be available after approval.
---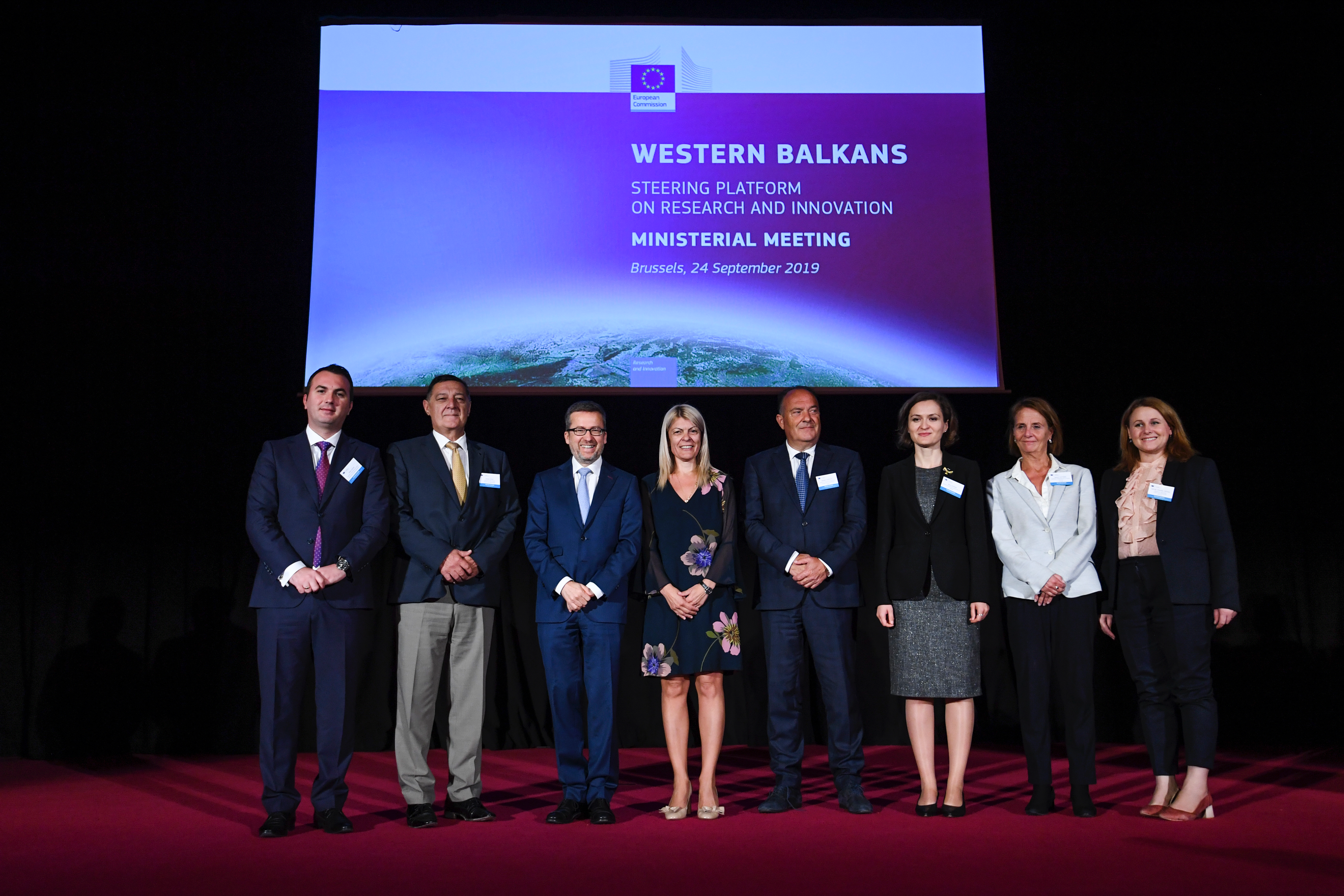 AGENDA
MORNING SESSION (08:30 - 12:00) - REGIONAL COOPERATION COUNCIL MEETING ON HORIZON EUROPE
Venue: RCC Offices, Rue Joseph II 12-16, 1000 Brussels, Belgium
08:30 - 09:00 Registrations
09:00 - 09:30 Welcome remarks | Opening statements
Regional Cooperation Council
European Commission, DG Research and Innovation
Finnish EU Council Presidency
Bosnia and Herzegovina co-chair on behalf of the Western Balkans
09:30 - 10:00 Progress reports on R&D and Innovation in the Western Balkans
10.00 - 11.45 Views and discussion on Horizon Europe – Western Balkan Six and EU Member States
Horizon Europe: current status and next steps, DG Research and Innovation
Reflections on Horizon Europe proposal by the Western Balkan Six
Discussion with the EU Member States
11.45 – 12.00 Summary and Conclusions
AFTERNOON SESSION (13:30 - 18:00) - STEERING PLATFORM ON RESEARCH AND INNOVATION MEETING
Venue: Hotel Le Plaza, Boulevard Adolphe Max 118/126, 1000 Brussels, Belgium (Room: Adolphe Max)
12:30 - 13:30 Networking Lunch (Room: Charleston)
13:30 - 15:30 First Session
15:30 - 16:00 Coffee break (Room: Esterel)
16:00 - 18:30 Second Session
Research Infrastructures, Roadmaps (Adam Tyson, DG RTD; David Ringrose, DG CNECT; Branka Zizic, SEEIST; Fabio Taucer, JRC; Fabio Mazzolini, Elettra Sincrotrone)
IPA support for R&I (Colin Wolfe, DG NEAR)
Widening in Horizon Europe (Stefan Weiers, DG RTD)
18:45 End of meeting
20:00 – 22:00 Official Networking Dinner at La Manufacture (Rue Notre-Dame-du-Sommeil 12, 1000 Brussels)
---
08:00 - 08:30 Registration and Welcome Coffee
(Hotel Le Plaza, Boulevard Adolphe Max 118-126, 1000 Brussels, Room: Theater)
08:30 - 09:00 Finalisation of Conclusions for the Ministerial Meeting
09:00 – 12.30 Ministerial Meeting
09:00 - 10:30 Welcome Remarks I Opening Statements
European Commission, DG Research and Innovation, Signe Ratso, Deputy Director-General
Finnish EU Council Presidency, Hanna Lehtinen, Ambassador
Keynote Carlos Moedas, Commissioner for Research, Science and Innovation
Keynote Vesselin Petrov Valkanov, Head of Liaison Office in Brussels, Regional Cooperation Council
Keynote Paulo Ferrão, President, European Cooperation in Science and Technology
First session
Report from the Steering Platform and R&I Meeting, Ammar Miraščija, Head of Department for Science, Ministry of Civil Affairs, Bosnia and Herzegovina
Western Balkans Position Paper on Horizon Europe, Viktor Nedovic, State Secretary, Serbia
First Round of Discussions, Ministers with Commissioner
Participation in Horizon 2020 – Expectations from Horizon Europe
Announcement by Elettra - Sincrotrone Trieste, Alfonso Franciosi, President Elettra
Wrap up of the session by Commissioner Carlos Moedas
10:30 - 11:00 Coffee break (Room: Gallery Theatre)
11:00 - 12:30 Second Session
Keynote Charlina Vitcheva, Deputy Director-General, Joint Research Centre
Keynote Viviane Hoffmann, Deputy Director-General, Education, Youth, Sport and Culture
Keynote Lorena Boix Alonso, Director, Communications, Networks, Content and Technology
Second Round of Discussions, Ministers

Smart Specialisation Strategies – Implementation, Impact on the national economy; the role of Research and Innovation to support this process
Closing Intervention by Jean-Eric Paquet, Director General, Research and Innovation
12:30 End of meeting
12:30 - 13:30 Lunch (Room: Adolphe Max)
14:00 Opening of R&I Days in Centre Pompidou
---
Geographical focus
Albania
Austria
Bosnia and Herzegovina
Croatia
EC
European Union (EU 27)
France
Germany
Italy
Kosovo*
Montenegro
Serbia
Slovenia
Western Balkans
Scientifc field / Thematic focus

Entry created by Admin WBC-RTI.info on September 26, 2019
Modified on October 4, 2019