News archive - Admin power in EU projects – BESTPRAC: The Voice of Research Administrators
An Article by Andjela Pepic, University of Banja Luka, Bosnia and Herzegovina - Chair of the COST TN1302 BESTPRAC.
____________________________________________________________________________________________________________
A lot of discussions and activities in the past and ongoing focused on increasing the participation in the EU funded projects, particularly in the Horizon 2020. The focus mostly being on researchers and getting them interested and able to compete for different EU funding schemes at the European, as well as international level. However, behind every successful researcher in this area, stands the support system with research administrators in charge of providing advice, support and expertise to the researchers throughout the entire project cycle. There is an increasing need and recognised potential at the universities, institutes and other institutions in establishing and maintaining the research administration support system for achieving the best results in competition for external funds.
The support system varies from one university/institution to another: from having one-person show doing all the support ("Alone at the Office") to having entire teams working on different administrative, financial and legal aspects of the EU funded projects. As there is more and more research, and coordination and support actions, as well as other projects at the universities/institutions, there is more need for quality administration. Recognizing that they are not alone and that both within and outside their working environment there is a whole community of research administrators eager for sharing their knowledge and experiences, learning from each other on best practices and weaknesses in administrative, financial and legal aspects of EU projects' implementation, research administrators from different countries established a Targeted Network funded under the COST Programme entitled "The Voice of Research Administrators - Building a Network of Administrative Excellence – BESTPRAC" (started in October 2013 – ending in October 2019).
The main objective of BESTPRAC is to establish a network for the administrative, finance and legal services in universities, research organizations and related entities supporting researchers involved in the lifecycle of transnational external competition based (in particular European funded) projects in order to exchange experiences and share and develop best practices, encourage knowledge sharing, knowledge transfer and increased efficiency.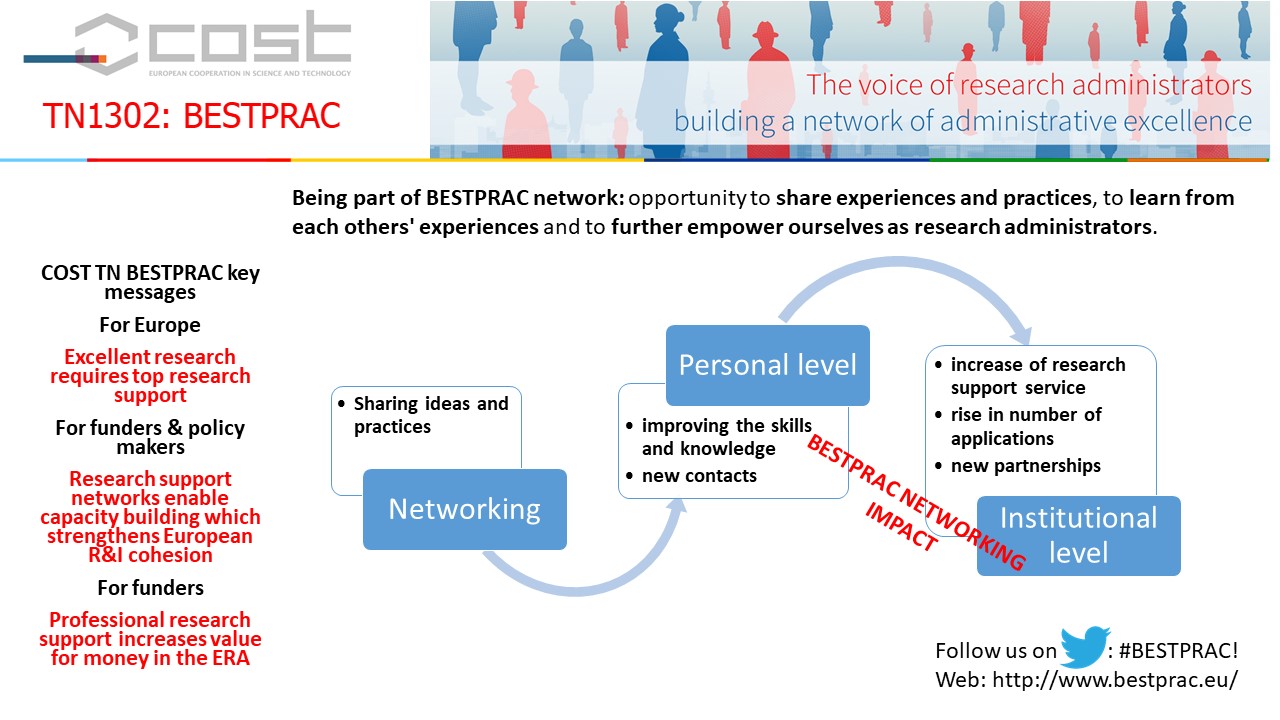 BESTPRAC gathers more than 500 research administrators (and the number is rising) from 40 countries - working in three working groups: administration, financial and legal - sharing their experience in administrating EU funded projects on European-wide scale, offering practical tools for project management and administration, as well as providing best practices exchange through practical guides such as:
Best Practice in Project Planning and Implementation
List of Weaknesses in Project Planning and Implementation
Managing FP7 and H2020 Projects - Guide to Best Practice - Financial Issues
Alone in the Office Survival Kits – LEGAL
Given that the network activities are funded through COST Action, most of the activities are typical as for any other COST action: working group meetings (individual and joint), short-term scientific missions (STSM) and training schools. What BESTPRAC offers to its members is: 1) STSM, 2) Meetings, 3) Training Schools, 4) Guides, and 5) Web page for sharing the materials. But also, as a community, BESTPRAC offers something beyond the material – it offers research administrators a feeling that they are not alone and that there is always someone out there, at another institution that can help in solving certain issue in project administration.
Quality research administration is also crucial for the future projects, particularly given the announcement of the next research and innovation framework programme – Horizon Europe. Hence, as the need for more knowledge and exchange among the research administrators increases, so does the need for sustaining BESTPRAC alive beyond the duration of the COST Targeted Network action. Hence, BESTPRAC core group and volunteering members of the network gathered around three working groups on cross-cutting issues, namely that of 1) Impact and Stakeholders' Involvement, 2) Sustainability and 3) Communication. The basic idea of these working groups is to find solutions for ensuring the BESTPRAC network alive and activities ongoing in the long-term perspective.
The necessity and usefulness of the BESTPRAC network both to research administrators, but also their institutions and researchers is described the best from the view of one of the BESTPRAC members: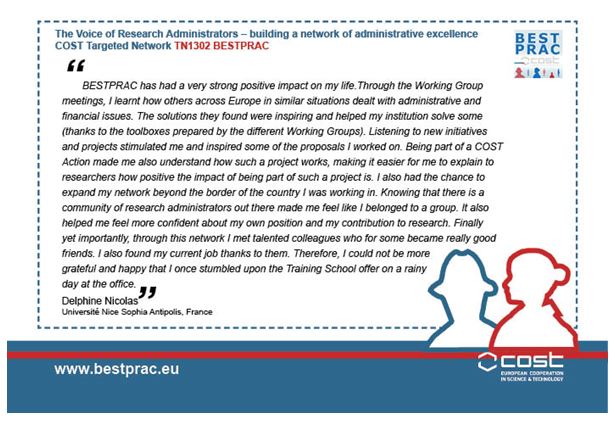 (taken from Dissemination of BESTPRAC Output, Statements of BESPRAC members : http://www.bestprac.eu/events/workshop-brussels-september-2017/ )
Geographical focus
General/no specific focus
Scientifc field / Thematic focus

Entry created by Admin WBC-RTI.info on June 1, 2018
Modified on June 8, 2018