Responsible Research and Innovation Ecosystems at Regional Scale for Intelligent Cities, Transport and Energy
RRI2SCALE is a H2020 project that seeks to embed RRI practices in the fields of smart cities – energy – mobility in the innovation and smart specialisation planning of four European regions: Kriti (Greece), Galicia (Spain), Overijssel (Netherlands) and Vestland (Norway). The project links RRI with regional competitiveness, and helps regional authorities to democratise governance in R&I while fostering local innovation. To achieve this, RRI2SCALE maps the pilot regions, deploys a dedicated engagement strategy and leverages foresight and co-creation techniques to bring together societal actors for collective change in the "smart" domains.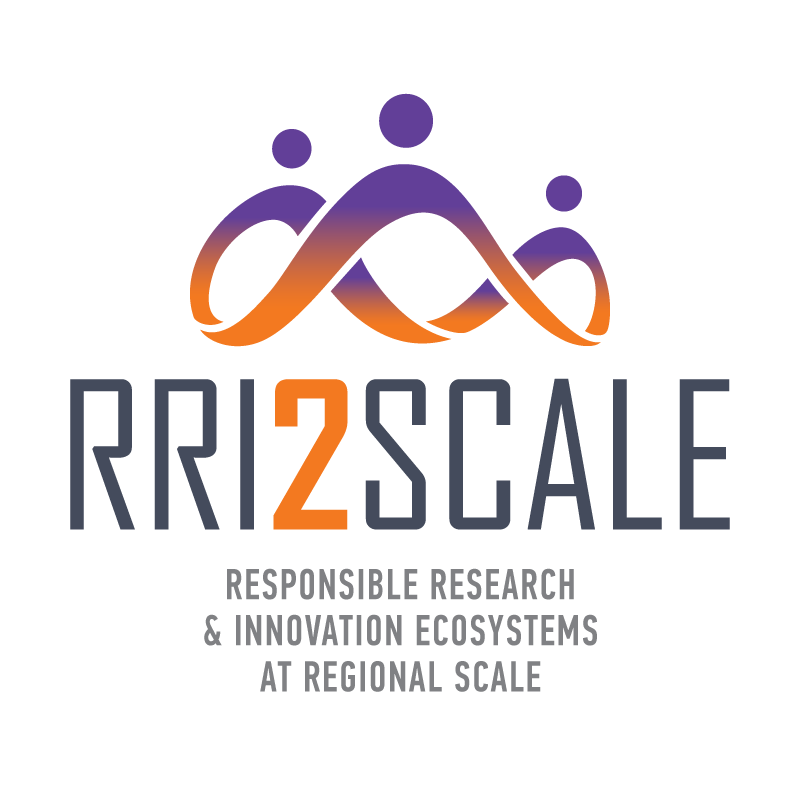 RRI2SCALE kicked off on January 2020, and since then it has been deploying a blend of activities. This mix includes desk research on the R&I ecosystems of pilot regions, in-depth interviews with stakeholders, and large-scale surveys with citizens of the regions to understand their perceptions and moral concerns on regional R&I policies in the smart domains. Moreover, the project has implemented foresight analysis during which experts on the smart domains from all over Europe have shared their insight and come up with plausible techno-moral scenarios on the future R&I trajectory of pilot regions.
The project is currently in its last phase, during which a series of co-creation activities in all regions will bring together citizens and stakeholders to collectively reflect on the project's outcomes. This process will produce practical roadmaps on how principles of RRI will be integrated in the regional innovation planning in the smart fields, eventually paving the way for more inclusive and sustainable regions. The Final Conference of the project, in which all results will be presented and validated, is planned for November 2022.
All public deliverables of the project can be accessed here.
Learn more here.
Twitter: https://twitter.com/rri2scale
LinkedIn: https://www.linkedin.com/company/rri2scale/
Facebook: https://www.facebook.com/rri2scale
What is in it for the Western Balkans?
Even though RRI2SCALE does not focus on the WB region, its rich toolbox of methodologies and tools are easily transferable and re-useable by WB regions that aspire to become testbeds of institutional transformation through RRI in cities, mobility and energy. The fact that Kriti and Galicia, two of the project's pilots, are mostly agricultural and located in the periphery of Europe, render them examples of less developed regions that wish to apply RRI principles early on in their innovation trajectory, in contrast to already technologically advanced EU regions that often integrate such principles in retrospect. Maritime, rural and peripheral regions of Western Balkans can learn from Galicia and Kriti in the smart domains, with the aim to responsibly upgrade their own regional planning.
In particular, the WB region can find inspiration from the following assets of RRI2SCALE:
The RRISCALE Good Practices Repository (soon available on our website)
The methodology of designing techno-moral scenarios and validating them with citizens
The methodology of engaging regional stakeholders through the JRC SES Game
Our training guide for regional authorities across Europe on how to apply territorial RRI
The case-study of Kriti, as an example of a peripheral region of the Balkan peninsula
Grant agreement ID: 872526
Country of the coordinating institution
Italy
Website
Geographical focus
Europe
General/no specific focus
Scientifc field / Thematic focus
Cross-thematic/Interdisciplinary
Engineering and Technology
General
Natural Sciences
Runtime
January 2020 - December 2022

Entry created by Elke Dall on June 1, 2022
Modified on June 9, 2022