A Closer Look at POLICY ANSWERS Gender Mainstreaming & Inclusiveness Guidelines
In an era where inclusivity and gender equality have become pivotal in shaping progressive societies, the implementation of comprehensive guidelines plays a fundamental role in fostering positive change. One such initiative making significant strides is the peer-learning webinar series titled "A Closer Look at POLICY ANSWERS Gender Mainstreaming & Inclusiveness Guidelines" implemented on 8 November 2023. This webinar, organized by Foundation for Management and industrial research and and Formicablu on behalf of the project POLICY ANSWERS, has emerged as a beacon of knowledge, empowering participants with insights into gender mainstreaming and inclusiveness.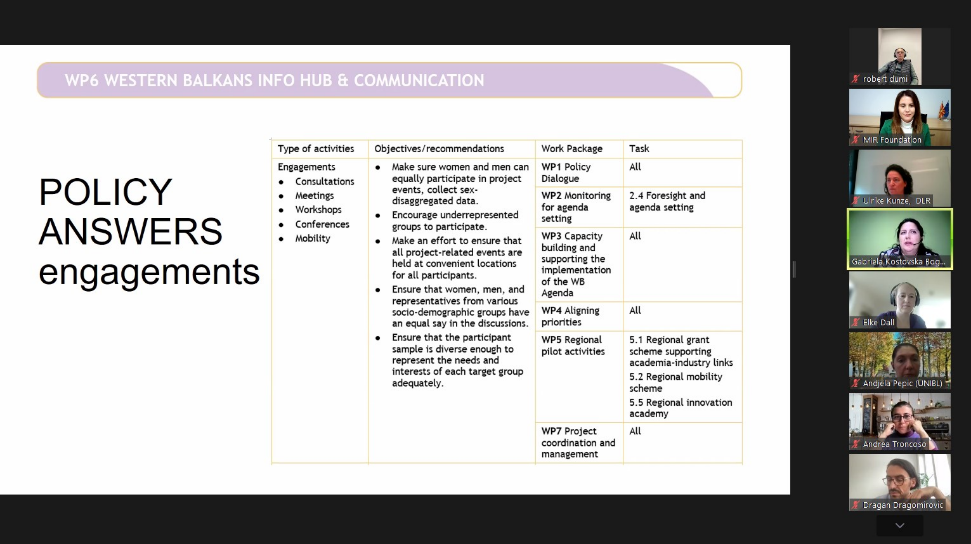 The webinar was meticulously designed with the primary objective of heightening awareness and providing strategic guidance to the POLICY ANSWERS project team. Its purpose was to ensure the seamless integration of gender mainstreaming and inclusiveness into the planned activities of the project. Additionally, the webinar aimed to bolster the capacity of consortium members, offering crucial support in their efforts to implement effective gender mainstreaming and inclusiveness strategies.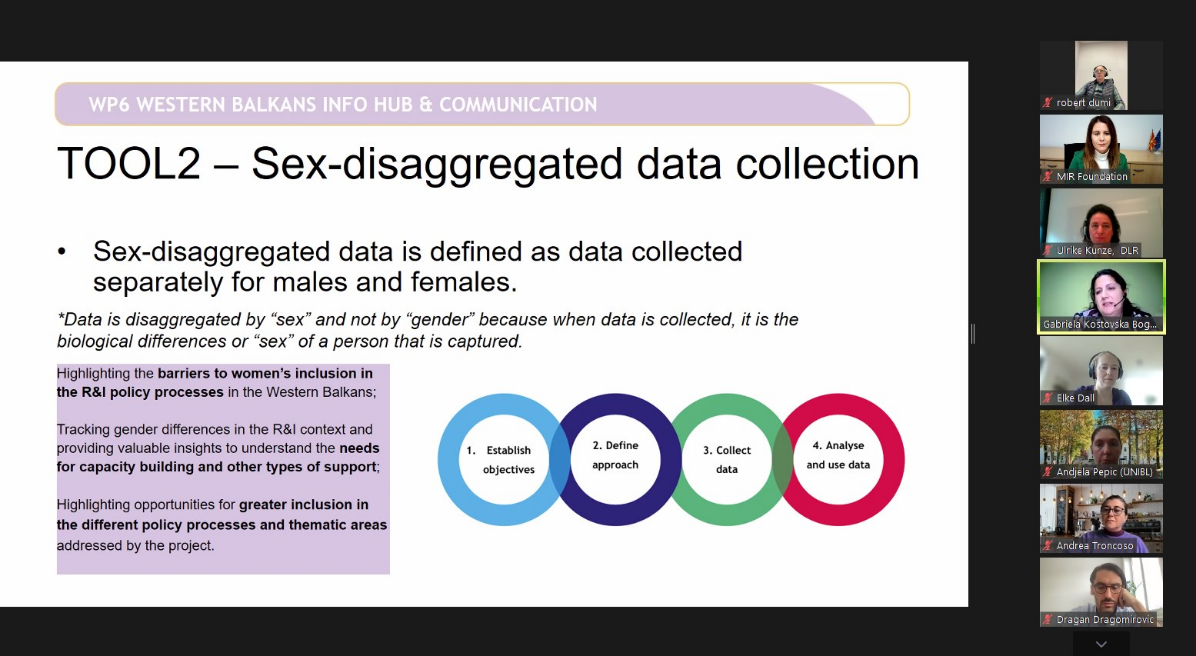 The webinar shed light on the vital significance of gender mainstreaming and inclusiveness by featuring a comprehensive presentation. Gabriela Kostovska Bogoeska, the Executive Director of MIR Foundation and Task Leader 6.5, delved into the Structure of the GMI guideline. She highlighted the relevance of various topics and key concepts, providing valuable insights into toolbox presentation and data collection methods. Moreover, Bogoeska elucidated the roles and responsibilities associated with gender mainstreaming and inclusiveness, offering a clear roadmap for the attendees.
Following her presentation, Andjela Pepic, Head of the Centre at the University of Banja Luka, shared her rich experience and best practices within the context of gender and inclusiveness dimensions in the WBC-RRI.NET project. Pepic's discussion encompassed working groups, cooperation strategies, active engagement with stakeholders, and the tangible results and benefits derived from these efforts. Additionally, she addressed crucial gender aspects, providing a well-rounded perspective on the topic. Furthermore, Pepic offered insightful recommendations aimed at enhancing and making STEAM education more inclusive and improved for all.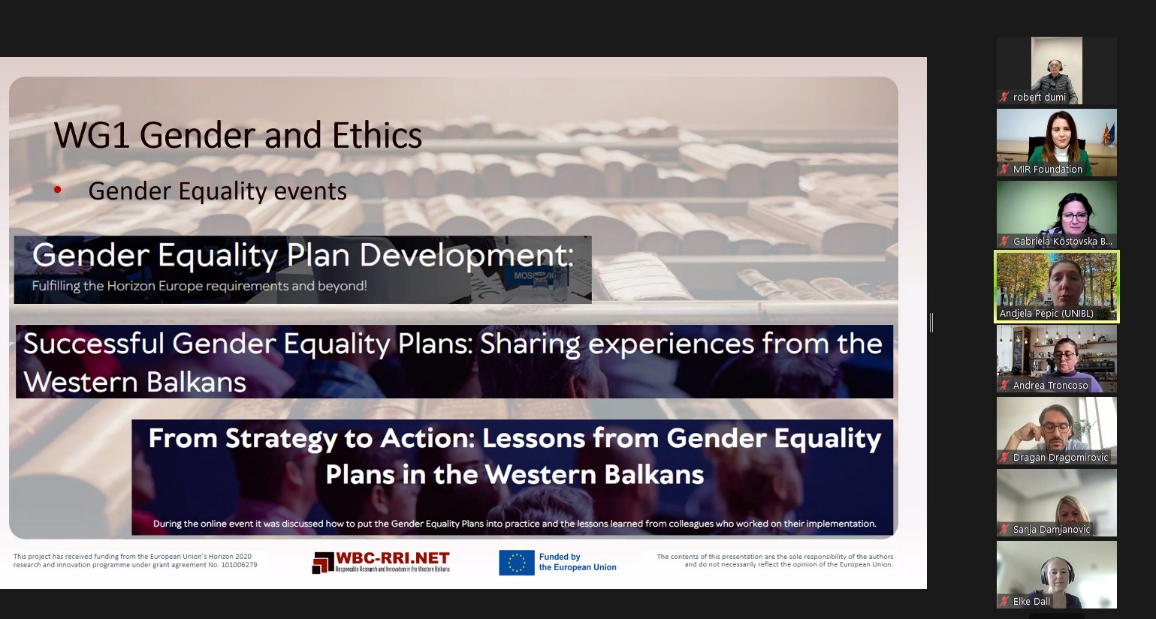 By creating a dynamic platform for experts and partners to participate in insightful discussions, the webinar facilitates a deeper understanding of the challenges encountered by underrepresented groups. Emilija Andonova, Project Coordinator at the Foundation for Management and Industrial Research, moderated the webinar, guiding the discussions with expertise and finesse. The event was warmly addressed by Andrea Troncoso, setting the tone for a collaborative and enlightening session.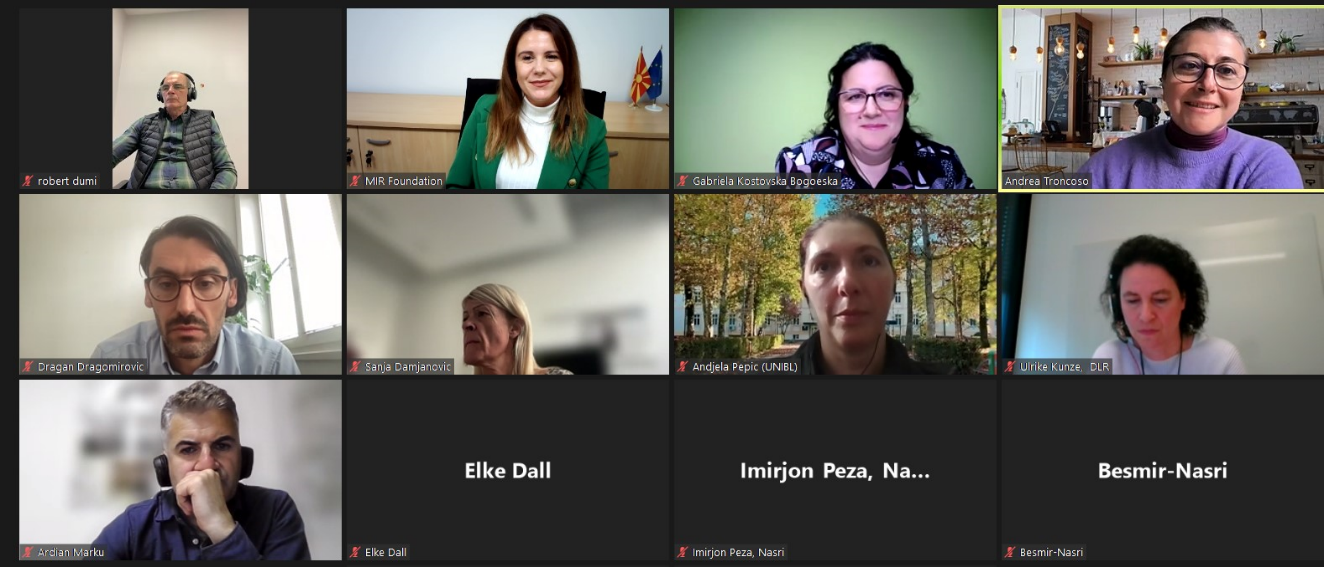 In conclusion, the webinar series, "A Closer Look at POLICY ANSWERS Gender Mainstreaming & Inclusiveness Guidelines," stands as a testament to the power of education and collaboration in driving social change. The aim of incorporating gender and inclusiveness dimensions is to implement project activities in a manner that will ensure that everyone can equally access project resources and services, equally participate in project activities and decision-making processes, and equally benefit from training and other capacity building and piloting activities offered by the project.
If you missed this Webinar or would like to watch it again, you can find the recording on our YouTube channel!
Geographical focus
International; Other
Western Balkans
Scientifc field / Thematic focus

Entry created by Admin WBC-RTI.info on November 14, 2023
Modified on November 14, 2023