Supporting skills development on IPR, technology transfer and knowledge valorisation - an interview with Maja Arslanagić-Kalajdžić
POLICY ANSWERS interviewed Prof. Dr. Maja Arslanagić-Kalajdžić, Head of the R&D Centre at the University of Sarajevo. During the interview, she highlighted some interesting points of the event held at the University of Sarajevo as an organiser and one of the speakers in a POLICY ANSWERS Capacity Building event. She also talks about the overall state of knowledge valorisation.
Dr. Maja Arslanagić-Kalajdžić is an Associate Professor at the Marketing Department of the School of Economics and Business (SEBS), University of Sarajevo (Bosnia and Herzegovina) and Director of Center for Research and Development at the University of Sarajevo. She holds a PhD from the Faculty of Economics, University of Ljubljana. In 2016 and 2017, she worked as a post-doctoral researcher at the Chair of International Marketing, Faculty of Business, Economics and Statistics, University of Vienna. She has 15 years of professional experience and is also a project manager, work package coordinator, expert and researcher in various projects funded by national and international institutions (e.g., Horizon Europe, Horizon 2020, COSME, Danube Transnational Programme, Adrion Programme). She has co-authored more than 50 journal articles, a book, four monographs and several book chapters. She has presented her research at more than 100 international scientific conferences.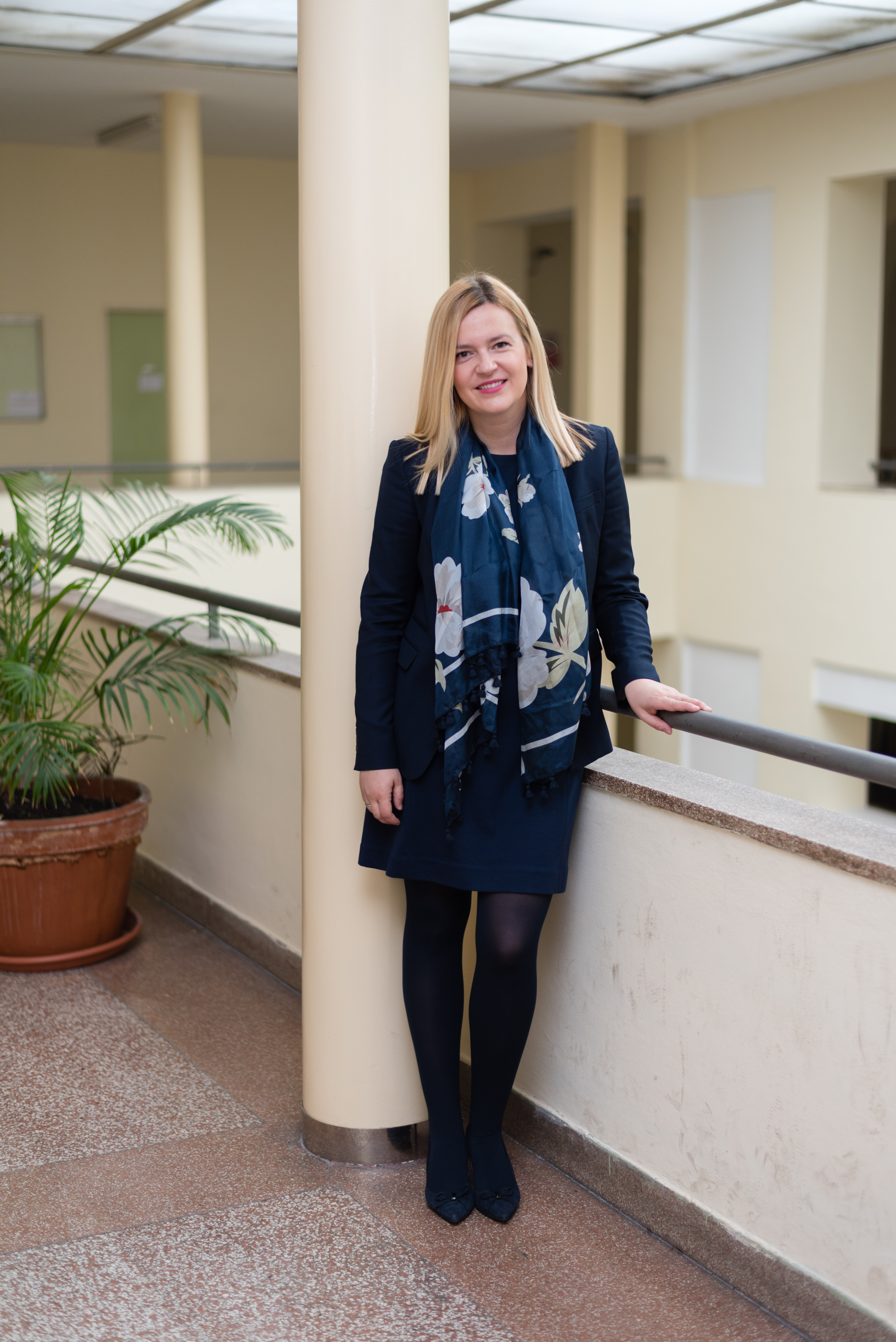 Why have capacity-building and training on Intellectual Property Rights been particularly important in recent times?
IPR is a very interesting theme these days because of its sensitivity, absence of strict regulation borders and potential for valorisation. In research, this topic is even more intriguing, due to processes and the subjects that are involved. In light of modern universities' research and development orientation, IPR is relevant since it is embedded in the knowledge and technology transfer processes and academia-industry linkages that should be established, nurtured and fostered. The University of Sarajevo (UNSA) is committed to strengthening its academia-industry ties and increasing the innovation potential of the scientific contribution of its member faculties, institutes and individual researchers.
In the context of such commitments by the University of Sarajevo, and in line with the capacity-building plan of the POLICY ANSWERS project, UNSA hosted a three-day event focused on knowledge and experience sharing on boosting academia to industry collaboration and capacity in the innovation and technology transfer, entitled "How to recognize and protect a scientific discovery? – a short course on the patent life cycle". The event was co-organized by the UNSA Research Support Office, UNSA R&D Centre and UNSA Institute of Genetic Engineering and Biotechnology (INGEB), supported by the POLICY ANSWERS project.
How to attract the attention of industry to academic patents and know-how originating from the University of Sarajevo, as well as how to establish and sustain contacts with the industry for successful knowledge and technology transfer, were main focus of the event attended by researchers/innovators from academia and industry.
The University of Sarajevo is strategically committed to increasing its impact on society through activities in science, research and development, hence discussion on the specific issues raised by this event contribute to increasing awareness on the topic and consequently achieving the strategic goals.
The first part of the event was focused on the current situation in the field of IPR and technology transfer in Bosnia and Herzegovina, and one of the key topics was the relationship between science and industry, with the assertion that economically developed countries typically have well-developed connections between the two. It was emphasized that investing in science is crucial as it acts as an engine for innovation and industry growth, and that innovation can in turn fuel industry development. The importance of a strong connection between science and innovation was highlighted, with the recognition that science is an essential component, especially in complex, radical or disruptive innovation. The sentiment was echoed that progress cannot be made without science and innovation and that a pathway to achieving this must be through quality education leading to scientific advancement and ultimately, innovation.
How were the participants identified?
The aim of the event was to share knowledge and experience focused on IPR and patenting in particular, as well as on boosting academia-to-industry collaboration and capacity in innovation and technology transfer. We tried to attract researchers/innovators from academia and industry, in particular researchers from science and biotech areas and engineering – since those are the areas that have the most potential for innovation today. Furthermore, all stakeholders, as well as policymakers, were invited and welcomed at the event.
Theoretical sessions about technology/knowledge transfer and facilitation of socio-economic development through creativity and innovation were led by guest experts – representatives of the USIPM, the University-Industry Collaboration Centres Platform of Turkey. Three expert representatives shared their knowledge and vast experience on the academia-industry linkages in the case of Turkey, which in the previous decade had a similar emerging context as BiH has now. Information on best practices in establishing technology transfer offices (TTOs) and network of TTOs were shared, as well as some great advice on how to boost cooperation with the industry.
A practical session dealing with the issues researchers face if the scientific discovery has a patenting potential, or when and how to file a patent application, was led by the Intellectual Property Office of Bosnia and Herzegovina representative. Discussion on such issues is of great importance for UNSA and is in line with the University Strategy that sets the IPR issues and technology transfer activities among its strategic goals. It was very interesting to see how the recently adopted University Rulebook on Intellectual Property Rights, effective and in force since June 2022, is actually a necessity in terms of defining procedures, rights and obligations of all partakers in the TT activities, with the aim to contribute and ease the processes in the field of innovation, TT and other scientific and research activities.
What kind of skill needs have you identified during the training?
Since most of the academic researchers/innovators have limited knowledge about or are unaware of IPR procedures and processes, or of BiH innovation environment ecosystem and how to adequately approach industry representatives, the professional from the BiH IP Institute highlighted some basic concepts and examples, presented the legal framework for IP protection in BiH, and patent protection procedures in BiH.
The most interesting aspects of this discussion were related to the very process of filing a patent application, answering the questions of who can apply for a patent, or where an application can be filed with mention of the national route (national offices), regional route (EPO, EAPO, OAPI, ARIPO, GCC) and international route (WIPO).
Such discussion led us to conclude that in general, researchers/innovators need more support, in particular when it comes to business development procedures, entrepreneurial skills, market assessment and market research skills, as well as relationship and marketing skills. In general, in order for the process to be more effective, additional activities towards the establishment of the university-level TTO should be carried on.
Which part of the training was especially interesting for the attendees, based on your experience?
Industry-Academia Collaboration for socio-economic development was the main focus of most of the attendees. Trying to explain every detail in a real situation, our guest professor from USIMP mentioned some activities that could be implemented, emphasizing the encouragement and support to university-industry collaboration and improvement of the awareness of collaboration among all stakeholders, developing national strategies to foster research, innovation, economic competitiveness, contribution to the country's R&D and innovation policies and quality and performance of human resources.
The very process of innovator-business matchmaking was outlined in detail and it was very interesting, useful, and insightful.
Which other lessons-learned would you like to highlight?
Getting acquainted with the technology transfer ecosystem, recognition and protection of research outputs with potentials for patenting, and most importantly getting the answers to the question: How to recognize and protect a scientific discovery? were the learning goals that I think all participants remembered.
One interesting takeaway for me personally is that not all discoveries should be patented. Namely, even though we take the number of patents as one of the most relevant indicators for innovativeness and innovation potential, the patenting process is long and expensive and it has no sense if it will not be commercialized. A clear description of the so-called "death valley" where many projects fall into after having an initial great start, was a revelation, and once again stressed the importance of the research support units and the role of R&D management professionals.
Country
Bosnia and Herzegovina
Scientifc field / Thematic focus
Cross-thematic/Interdisciplinary
General

Entry created by Elke Dall on April 26, 2023
Modified on June 9, 2023