Support for innovation and knowledge valorisation from the perspective of an expert: Interview with Radmil Polenakovik
POLICY ANSWERS invited one of the key experts in the region on innovation and entrepreneurship for a short interview: Radmil Polenakovikj, full-time professor at the Faculty of Mechanical Engineering (FME), Ss. Cyril and Methodius University in Skopje.
In doctoral, graduate and undergraduate studies Radmil Polenakovikj is/was involved in many courses: Entrepreneurship & Small Business Management, Innovation Management, Project Management, Human Resources Management, Logistics & Supply Chain Management, Project Life Cycle Management, Ergonomics, etc. Currently, he is the Head of the Department for Production and Industrial Engineering and also is managing Faculty Career Centre which allows him close collaboration with many companies. He has published more than 330 bibliographical units. His main activities are in the area of development of Macedonian innovation and entrepreneurial ecosystem. He was involved in the development of the National Strategy for Entrepreneurial Learning, National Cluster strategy, Regional Innovation strategies for planning regions, etc. Dr. Polenakovikj was involved in the development of curriculum, textbooks and professional teacher training for courses related to innovation and entrepreneurship in primary and secondary education, while at the university level, he is teaching Entrepreneurship since 1997 (at FME). He was involved in the implementation of more than 120 projects (50 as a team leader) supported by: EU (cross-border, FP7, Tempus, COSME, Erasmus+, H2020...), OECD, World Bank, ETF, ADA, USAID, GTZ, CEI, UNDP, Macedonian ministries and agencies, municipalities, etc. He is also a project evaluator on a number of EU, Balkan, GIZ and domestic project calls on SME development, entrepreneurship & innovation. In the area of human resources development, he was involved in many projects that resulted in training of company representatives, as well as public employees in the state and local administration, both as a coordinator of many trainings and also as a trainer (e.g. coordination of trainings of > 3 000 teachers).
Polenakovikj is leading the University Business Start-Up Centre (since 2006) and the National Center for Development of Innovation & Entrepreneurial Learning (since 2009) which supported the creation of more than 60 start-ups. He developed programs for start-up training, mentoring and seed funding within different project schemes. He is a member of the European Academy of Sciences & Arts.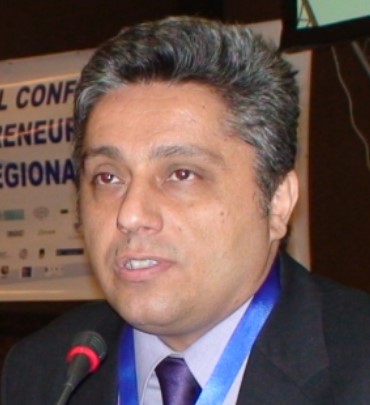 As a university professor focusing on innovation support, what are the most important aspects to be addressed in the Western Balkans and in North Macedonia in particular from a theoretical point of view?
I believe that the Western Balkans and North Macedonia in particular have great potential for growth and development in these areas. From a theoretical point of view, there are several aspects that should be addressed to increase promotion and support for innovation and entrepreneurship in our region.
It is very important to develop a supportive ecosystem for entrepreneurship and innovation. This includes access to funding, mentorship, networking opportunities, and infrastructure that supports the growth of startups and small businesses. A lot of this is already done, however, there is a still huge space for improving all the above mentioned, especially strengthening the links between academia and industry in order to secure better know-how transfer from universities and research institutions towards industry, but also towards the public sector.
Also, a much stronger focus on developing human capital is needed. This means investing in education and training programs that equip individuals with the skills and knowledge needed to start and grow businesses. Additionally, efforts should be made to encourage entrepreneurship and innovation as a career choice, particularly among young people. In our country, we did great progress in this aspect by introducing in 2015 course "Innovation" in the 9th grade of primary schools and strengthening the curriculum for courses on "Innovation and Entrepreneurship" in secondary schools. These activities are directly linked to fostering a culture of innovation and risk-taking. However, we must do much more to support on all educational levels initiatives that encourage creativity, experimentation, and the sharing of ideas (e.g. open innovation approach via collaboration and co-creation). This type of activity also involves challenging the existing mindset and promoting a culture that values innovation and sees it as a key driver of economic growth.
At the same time, you also experience the challenge to establish a start-up company and to patent a technological process. What are your experiences and where are the main challenges for you?
One of the main challenges of establishing a startup company is securing funding. Working in the area of development of national start-up and innovation ecosystem for more than 20 years, I can confirm that now, regarding this aspect, the situation has improved a lot. Now in our country, we have a fully functional "Fund for Innovation and Technology Development" that provides funding for startups and SMEs via different mechanisms, a couple of venture funds are available, a business angel network is slowly growing, and it is evident that many international institutions are supporting this types of activities.
When it comes to patenting a product or technological process, the main challenge is often navigating the complex legal landscape. It is important to conduct thorough research to ensure that the idea is original and has not already been patented by someone else. Additionally, the patent application process can be time-consuming and requires a detailed understanding of patent law. However, there are supporting organizations that are specialized in this area and are providing assistance for national and international patenting.
In addition, it is very important to have a strong network of mentors, advisors, and industry experts who can provide guidance and support throughout the process of establishing a startup company and patenting a product or technological process. This network can also provide valuable connections to potential investors, customers, and partners.
How do you perceive the support of the European Union? Which other supporters or donors would you want to highlight that play important roles in the knowledge valorization processes?
I can say that the support of the European Union has been crucial in establishing and growing the innovation and start-up ecosystem in North Macedonia. The EU has provided funding and support for a range of initiatives focused on innovation, entrepreneurship, education, and policy reforms, which have helped to build the capacity of individuals and organizations to drive economic growth and social development in the country.
In addition to the EU, there are also other donors and supporters that play important roles in knowledge valorization processes in North Macedonia. For example, USAID, GIZ, the World Bank, the European Bank for Reconstruction and Development, the Swiss Agency for Development and Cooperation, OECD, also Embassies in North Macedonia of UK, Norway, Netherlands (and other countries), etc., have been active in promoting innovation and entrepreneurship in the country and has provided funding and support for a range of initiatives, including business incubators, accelerators, training programs, and networking events.
I must here express my gratitude to Austrian Development Agency for their support during the period 2006-2012 for the establishment of the Business Start-up Centre at the Faculty of Mechanical Engineering, Ss. Cyril and Methodius University in Skopje, and National Centre for Development of Innovation and Entrepreneurial Learning. I have worked with almost all domestic and international organizations that support the development of national ecosystems, and I can say with certainty there is still a need to do much more. I am expecting that with initiatives related to Western Balkan, together with our neighbouring countries we will develop our national and Western Balkan systems much faster through collaboration and joint efforts.
Country
Republic of North Macedonia
Geographical focus
Republic of North Macedonia
Scientifc field / Thematic focus
Cross-thematic/Interdisciplinary
General

Entry created by Elke Dall on April 26, 2023
Modified on May 2, 2023