EIT and COST to focus on supporting Western Balkans together
COST and the European Institute of Innovation and Technology cooperate to provide training and funding to innovators in less innovative regions in central and eastern Europe. When signing the memorandum, the extension of the EIT Jumpstarter programme to COST researchers was one example but the cooperation with the Western Balkans was highlighted as a key area for synergies and future joint activities.
This information is available from the COST website: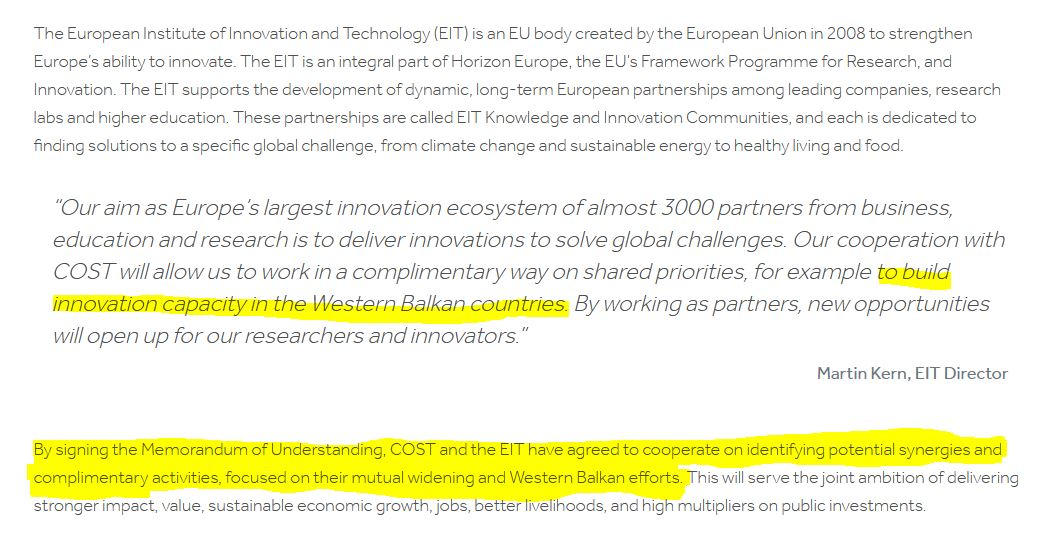 As a first concrete step, both entities will look into the possibilities offered by the EIT Jumpstarter' initiative, a joint EIT Innovation Community pre-accelerator programme that supports innovators from Central-Eastern and Southern-European countries. It could mean an interesting follow-up funding opportunity for the COST Innovator Grantees.
To read more, please visit the COST website: https://www.cost.eu/mou-eit; https://www.pressreleasepoint.com/eit-cost-connecting-innovation-chain-reinforcing-synergies and also news via ScienceBusiness: https://sciencebusiness.net/news/eu-innovator-and-researcher-networks-team-boost-support-eastern-and-central-europe
Source: https://www.cost.eu/mou-eit/
Geographical focus
Albania
Bosnia and Herzegovina
General/no specific focus
Kosovo*
Montenegro
Serbia
WBC-INCO.NET
Scientifc field / Thematic focus
Cross-thematic/Interdisciplinary
General

Entry created by Elke Dall on April 22, 2022
Modified on April 22, 2022