News archive - Infrastructure and youth - priorities at the Paris summit 2016
On 4 July, France hosted the third summit on the Western Balkans. Eleven countries were invited: the six Western Balkan countries (Albania, Bosnia Herzegovina, Kosovo*, the former Yugoslav Republic of Macedonia, Montenegro, Serbia) and the five EU countries (Austria, Croatia, Germany, Italy and Slovenia).
Concrete initiatives to strengthen regional cooperation
Regional cooperation is an essential element of European reconciliation in the Western Balkans and a key factor for stability and prosperity.
Building on the European perspective that has been recognized at their summit in Zagreb in 2000, under the French presidency of the European Union , the Balkan countries have engaged in the path of structural reforms to strengthen the rule of law and reform their economies. The process of high-level meetings started in Berlin in 2014, continued in Vienna in 2015 and aims to support the efforts of these countries in their European rapprochement strengthening regional cooperation through concrete initiatives.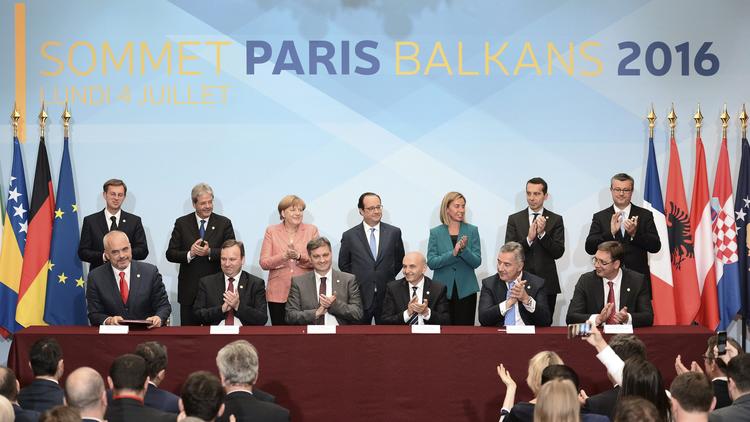 Foto: EPA/STEPHANE DE SAKUTIN / POOL MAXPPP OUT
Infrastructure and youth priorities at the Paris summit
Paris Summit's objective is to make real progress on two major themes, in taking stock of the implementation of decisions agreed in Vienna but also by launching new initiatives:
the development of connectivity infrastructure in transport and energy, to facilitate the opening up of the region and promote economic exchanges, source of sustainable growth and employment;
for the youth initiatives to facilitate mobility in the region and within the EU, in order to increase their employability and enable it to be an important player towards EU integration.
The summit was the occasion to launch the Regional Cooperation Office for Youth (RYCO), the six Western Balkan countries had pledged to create at the Vienna summit.
It was also an ideal framework for the exchange to discuss the challenges facing the Balkan countries and the European Union, particularly in the context of the refugee crisis, but also the fight against terrorism.
All these themes were addressed at meetings of Heads of State and Governments and Ministers of Foreign Affairs and Economy. They were developed in the framework of two complementary events, held on July 4 in the morning: a business forum on investment opportunities in these countries and the business climate, and an event dedicated to the youth. Finally, a meeting between civil society organizations was also held in Paris on 4 July in the morning.
Geographical focus
Albania
Austria
Bosnia and Herzegovina
Croatia
France
Germany
Italy
Kosovo*
Montenegro
Republic of North Macedonia
Serbia
Slovenia
Western Balkans
Scientifc field / Thematic focus
Cross-thematic/Interdisciplinary

Entry created by Ines Marinkovic on July 5, 2016
Modified on July 5, 2016