News archive - [Event Announcement] Regional Biophysics School – "Imaging Neuroinflammation" (Application deadline: March 28, 2016)
Regional Biophysical School "Academician Radoslav K. Andjus" (NERKA) was established in honor of Professor R.K. Andjus (1926-2003) an internationally recognized scientists from the University of Belgrade, a member of Montenegrin and Serbian academies of sciences and arts and one of the founders of Institute for Marine Biology in Kotor. This is the sixth school, organized traditionally by the Biophysical Society of Serbia this time with the sponsorship of the International Union for Pure and Applied Biophysics (IUPAB) with over 50 members. This event will be held in Kotor, Montenegro on June 17-20, 2016.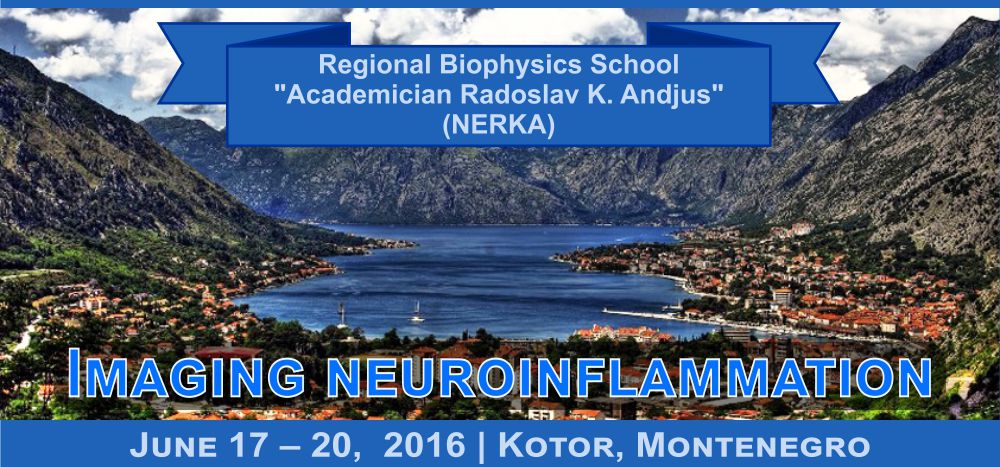 Description
Each school has a different theme, and thematic objective of this school is to introduce modern methods of biophysical imaging and image analysis in studies of inflammatory phenomena and markers of neurodegenerative diseases. It is also envisaged to rise discussion among the participants on the translational value of these techniques and the clinical relevance of presented experimental markers.
The techniques covered will be:
MRI, MRS, PET, EPRI, and
advanced microscopy

non-linear microscopy – dual photon fluorescence,
fluorescence correlation spectroscopy (FCS) & microscopy,
super-resolution microscopy : PALM, STED,
raman spectroscopy : CARS,
digital holographic microscopy.
A multidisciplinary faculty is chosen ranging from fields of:
physics (applications of laser technology and advanced microscopy),
physical chemistry (magnetic resonance techniques and applications),
biology (experimental models of neurodegenerative diseases), and
medicine (clinical studies and markers of neuroinflammation).
Lecturers
(in alphabetic order)
Prof. Pavle Andjus, PhD – Faculty of Biology, University of Belgrade, Serbia
Andrew Clayton, PhD – Swinburne University of Technology, Hawthorn, Australia
Marko Daković, PhD – Faculty of Physical Chemistry, University of Belgrade, Serbia
Irena Dujmović, MD – School of Medicine, University of Belgrade, Serbia
Diego Gomez-Nicola, PhD – University of Southampton, Southampton General Hospital, UK
Prof. Robert Harris, PhD – Karolinska Institutet, Stockholm, Sweden
Branislav Jelenković, PhD – Institute of Physics, University of Belgrade, Serbia
Prof. Lars Klimaschewski, MD – Medical University of Innsbruck, Austria
Aleksandar Krmpot, PhD – Institute of Physics, University of Belgrade, Serbia
Prof. Slobodan Macura, PhD – Mayo Clinic, Rochester, Minnesota, USA
Miloš Mojović – Faculty of Physical Chemistry, University of Belgrade, Serbia
Prof. Hugh Perry, PhD – Centre for Biological Sciences at the University of Southampton, UK
Boris Šakić, PhD – McMaster University, Hamilton, Canada
Vladana Vukojević, PhD – Karolinska Institutet, Stockholm, Sweden
Important facts
Registration fee:
150€ (to be paid after acceptance of application)
Accommodation:
private villas, walking distance from venue – managed by local organizer.
Fellowships to attend the School sponsored by IUPAB will be distributed to young researchers (<35) on competitive basis and will consist of 300 (three hundred) Euro and/or price of accommodation + registration fee waiver.
Applications (short CV and letter of recommendation) to be sent to clm@bio.bg.ac.rs until March 28th, 2016.
Travel
Help offered by organizing committee and the exclusive touristic agency IMPALA (info@impalayu.com).
For further info contact:
clm@bio.bg.ac.rs
Please find further information here or check the folder attached below.
Geographical focus
Montenegro
Serbia
Western Balkans
Scientifc field / Thematic focus

Entry created by Ines Marinkovic on January 27, 2016
Modified on January 27, 2016