News archive - [Event Announcement and Call for papers] WBCInno2015 - International Conference
The international conference "Modernisation of universities through strengthening of knowledge transfer, research and innovation" - WBCInno2015 will be held on 18 of September 2015, in Novi Sad, Serbia, at the amphitheater of Central building of University of Novi Sad (dr Zorana Đinđića street, no. 1, Novi Sad).
The topics for papers are (but not limited to):
Modernization of universities,
Knowledge and technology transfer,
Intellectual property,
Innovation management,
Knowledge triangle,
Business incubators and science & technology parks,
Entrepreneurship,
Stimulating innovations from university,
University and business R&D collaborations,
Research management.
Important dates:
30/07/2015. – Deadline for abstract submission (PROLONGED)

05/08/2015. – Notification of abstract acceptance date (PROLONGED)

01/09/2015. – Full paper (max 4 pages) submission deadline;

18/09/2015. – WBCInno2015 conference day.
Submission of abstract and full papers should be performed through email bsons@uns.ac.rs which can be used also for further correspondence.
Benefits:
Attendance at the conference without conference fees;
Printing all papers in the Proceedings;
Exchange of useful experience in the pleasant atmosphere.
Source: President of the Organizing Committee Prof. Goran Stojanovic, PhD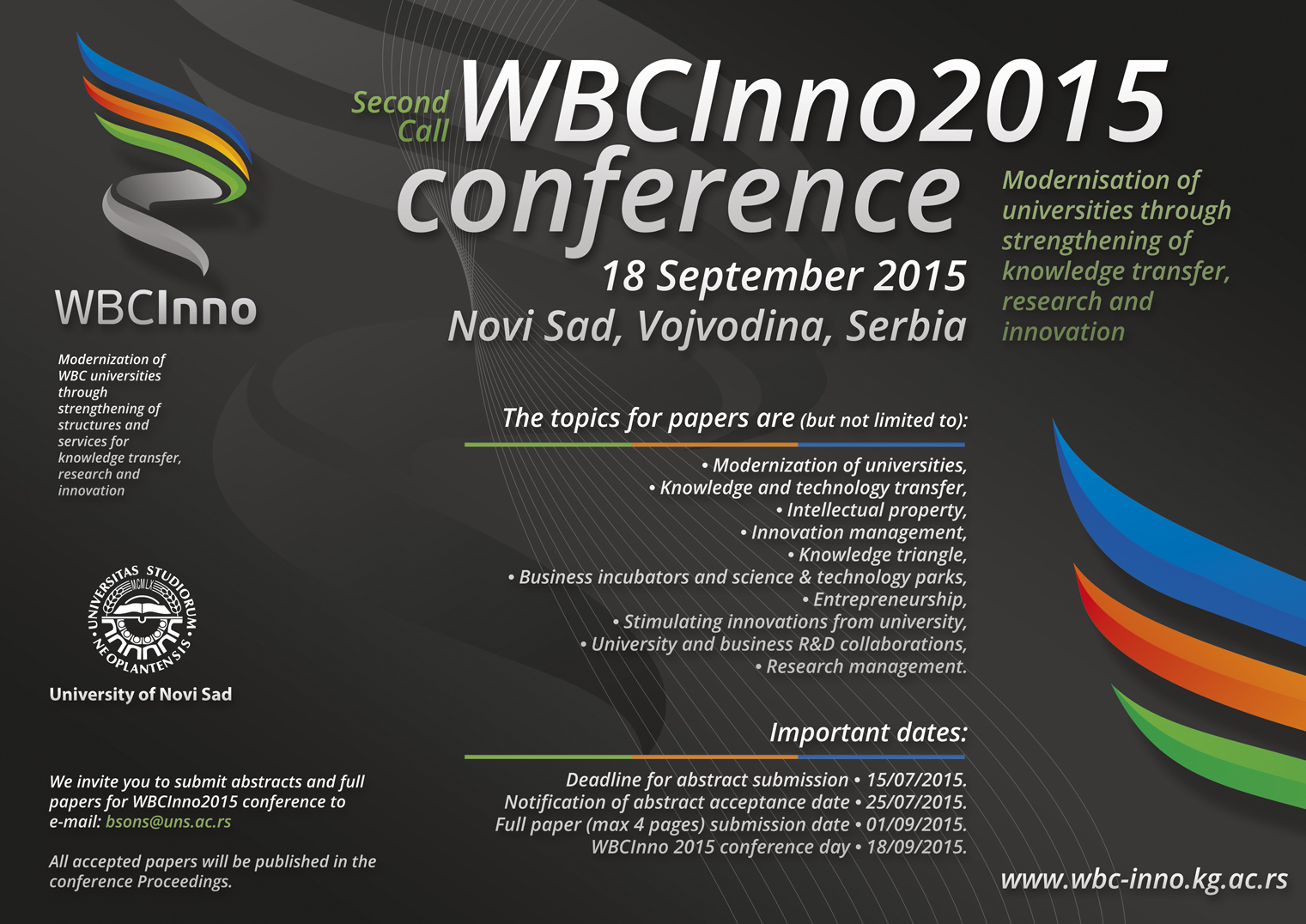 Geographical focus
International; Other
Serbia
Western Balkans
Scientifc field / Thematic focus
Cross-thematic/Interdisciplinary
Related organisations

Entry created by Ines Marinkovic on July 22, 2015
Modified on July 24, 2015