News archive - Next steps on the implementation of the Western Balkans Regional Research and Development (R&D) Strategy for Innovation
Under the guidance of the Regional Cooperation Council (RCC) Secretariat, the Steering Committee of representatives of ministries of science from the Western Balkan countries, adopted in Split today the Regional Action Plan for 2014, defining specific activities for implementation of the Western Balkans Regional Research and Development (R&D) Strategy for Innovation.
WBC-INCO.NET also presented its results and prepared a hand-over of selected tasks to the coordinating body.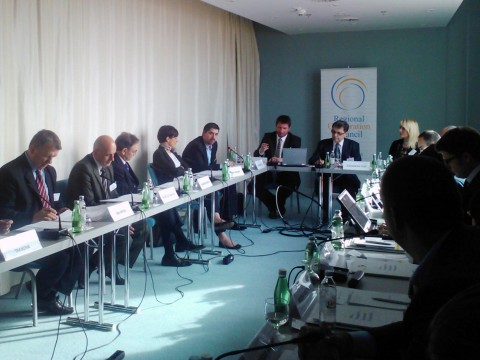 The R&D Strategy was adopted by the ministers of science of Albania, Bosnia and Herzegovina, Croatia, Kosovo*, The Former Yugoslav Republic of Macedonia, Montenegro, and Serbia on 25 October 2013 in Zagreb, Croatia.
As part of the RCC's SEE 2020 Strategy a Regional Action Plan for implementation of Western Balkans Research and Development Strategy for Innovation was adopted on April 2, 2014.
The Plan includes organisation of the Regional Scientific Forum, aiming to boost science-industry collaboration and technology transfer; preparation of regional programme on technology transfer, targeting to stimulate industry-science collaboration, encourage marketable research results and value-creation; and adoption of the statutory documents of the Western Balkans Research and Innovation Strategy Exercise (WISE), with a key role to facilitate implementation of R&D Strategy.
Mladen Dragašević, Regional Cooperation Council Secretariat's Senior Expert on Smart Growth, stressed the importance of establishment of WISE as future coordinator of R&D and Innovation dimension of South East Europe (SEE) 2020 Strategy.
"Regional action plan will play a fundamental role in placing key SEE 2020 Strategy actions and activities at the heart of national sectoral policies and be used for easier reporting on implemented and planned activities and progress achieved. It will ensure streamlined and integrated approach, as well as close cooperation between the different Strategy dimensions` stakeholders, in order to reach more sustainable and cost-effective solutions," said Dragašević.
Research and innovation are at the heart of the RCC's SEE 2020 strategy, as they are important drivers of economic growth, and contributors to raising productivity and creating employment opportunities.
The first meeting of the Steering Committee after adoption of the Western Balkans R&D Strategy for Innovation was organised by the Regional Cooperation Council Secretariat and Croatian Ministry of Science, Education and Sports.
The Western Balkans R&D Strategy for Innovation and related documents are available at the following links:
http://www.rcc.int/docs/325/western-balkans-regional-r-and-d-strategy-for-innovation, and http://www.worldbank.org/en/events/2013/10/24/balkans-innovation-event
Presentations held at the meeting can be found attached. Final minutes will be provided soon.
Scientifc field / Thematic focus

Entry created by Elke Dall on April 2, 2014
Modified on April 3, 2014