Info Day on the EU4Health action grant to support Health Emergency Preparedness and Response Authority (HERA)
Short description
The European Health and Digital Executive Agency (HaDEA) launched a new action grant under the EU4Health programme to support the European Health Emergency Preparedness and Response Authority (HERA). At this information session, HaDEA, with the participation of Directorate-General HERA, will present the policy context, objectives and expected impact, as well as the procedure for this action grant.
Description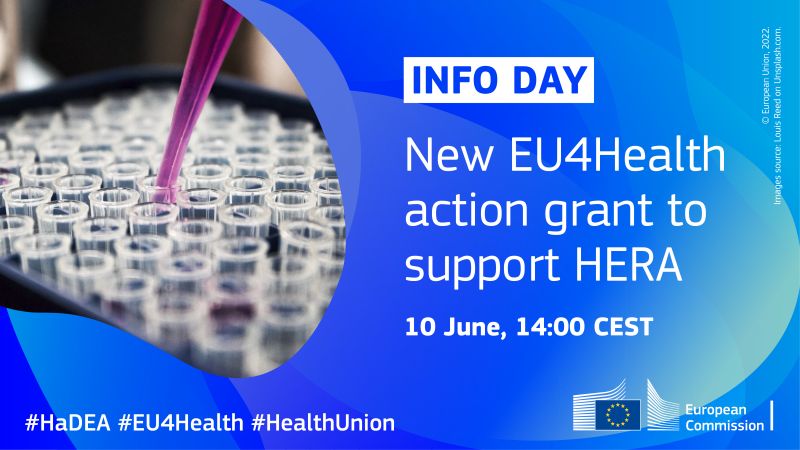 EU4Health is the EU's largest health programme to date in monetary terms, with a budget of €5.3 billion in current prices. EU4Health provides funding to national authorities, health organisations and other bodies through grants and public procurement, contributing to a healthier Europe.
Stemming from the COVID-19 crisis, the particular action supports one of the EU4Health programme priorities to protect European citizens from serious cross-border health threats and strengthen the responsiveness of health systems to cope with these. The action grant (Budget: € 25,000,000) aims to establish a pilot network of top-class laboratories and research institutes with the expertise and capacities to support HERA in identifying emergent pathogens and ensuring the availability of medical countermeasures for improved health preparedness and response. In a health emergency outbreak, the network will have to support HERA in providing a timely, targeted, and tailored input on the identified health threat. The deadline to submit applications is 18 August 2022, 17:00 (CEST).
Geographical focus
General/no specific focus
Scientifc field / Thematic focus
Medical and Health Sciences
Event type
Horizon Europe / H2020 event
Webinar

Entry created by Elke Dall on June 7, 2022
Modified on June 7, 2022