EuroScience Open Forum (ESOF) 2022
Event date
July 13-16, 2022
Short description
About ESOF
The EuroScience Open Forum (ESOF) created by EuroScience in 2004, is the largest biennial interdisciplinary meeting on science and innovation in Europe, for and with society.
The main theme of the 10th edition of ESOF2022 is "Crossing Borders, Engaged Science, Resilient Societies".
In today's global context, we can no longer go it alone when it comes to tackling the complex issues facing the environment and our societies. Geographical borders have little meaning since we all on the same planet and dealing with many of the same problems. Therefore, this year's conference theme is all about unity and bridging gaps not just between the humanities, the social science, the natural, medical and physical sciences but also between scientists, policy makers, the media and the general public. We need all stakeholders of science and society from all over the world to cross knowledge and geographical borders and come together to discuss, adapt, and collaborate on innovative and timely interventions needed to solve the challenges we are facing today. This is reflected in the conference theme and its seven themes.
Description

7 Tracks of the Scientific Programme
The ESOF2022 scientific programme is part of the main programme and has seven distinct tracks designed to address the overarching conference theme:
Theme 1: A sustainable environment
Theme 2: Cultural Identities and Societal Transformation
Theme 3: Space for science
Theme 4: Healthy societies
Theme 5: Freedom and responsibility of science
Theme 6: Science and Business
Theme 7: Sustainable Academic Careers
In more than 100 multidisciplinary sessions, you will engage in discussions and debates on climate change, migration, sustainability, healthy, chronic diseases or contested heritage – major themes addressing the Sustainable Development Goals of the United Nations.
What session or programme event will pique your interest? See the full programme to find out.
Sustainable and Inclusive Event
To maximize inclusion and participation while minimizing the impact on the climate, ESOF2022 will be both an onsite and online event. The conference will employ the most advanced virtual conference technology to welcome participants from around the world, whether physically or virtually, to the city of Leiden.
Join the global conversation happening at ESOF2022:
ESOF2022 has several boards that together create and steer the unique vision of this conference.
Two local champions are selected each year to work closely with the scientific board to help define the conference theme and its tracks and to review and select the submitted session proposals for the final scientific programme.
This year's ESOF local champions are two professors from Leiden University: Prof. Dr. Corinne Hofman, former dean of the Faculty of Archeology; and Prof. Dr. Ferry Breedveld, former chair of the Leiden University Medical Center (LUMC) Executive Board.
Find more information on registration information here.
Western Balkans at ESOF
The WBC-RRI.NET project organises a dedicated session on Saturday 16 June at 9:30 - with the following abstract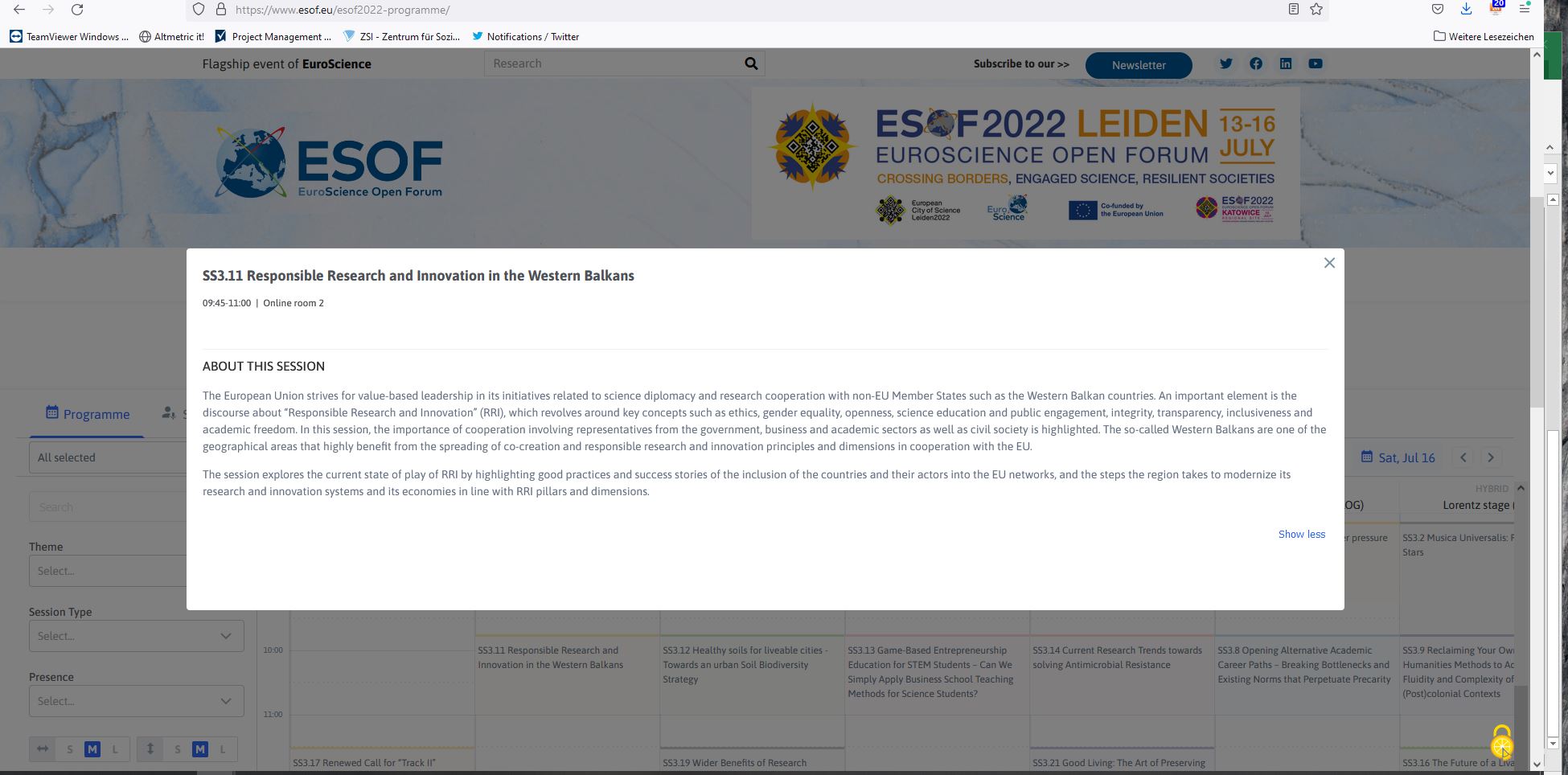 Geographical focus
Europe
European Union (EU 27)
Scientifc field / Thematic focus
Cross-thematic/Interdisciplinary
General
Website
Event type
Conference in EU/international
Webinar

Entry created by Admin WBC-RTI.info on May 23, 2022
Modified on June 8, 2022