10th International Conference for Entrepreneurship, Innovation and Regional Development (ICEIRD)
Event date
August 31, 2017 - September 1, 2017
Venue
Makedonia Palace Hotel, 5* Thessaloniki
Short description
ICEIRD 2017, organized by the University of Sheffield International Faculty, CITY College, will take place in Thessaloniki, Greece.
Description
The mission of the International Conference for Entrepreneurship, Innovation & Regional Development (ICEIRD) is to support regional development by providing a multi-disciplinary forum for researchers, practitioners and policy makers in the field of innovation, entrepreneurship and regional development.
As an innovative conference bringing together academics, policymakers, practitioners, and businesses, this year the theme of ICEIRD is to advance research and practice university-industry links. The conference is structure around three tracks concerned with researching, co-producing and commercializing university-industry links.
The intended audience of the conference is academics, university technology managers, entrepreneurs, policy-makers, and businesses interested in the theory and practice of university-industry links, as well as innovation, entrepreneurship and regional development more broadly.
The 10th (anniversary) edition of ICEIRD will bring leading names under the following sessions:
• Researching: Innovative and entrepreneurial teaching and learning
• Researching: The evolving role of universities in innovation systems
• Researching: Creating entrepreneurial societies: The triple helix and beyond
• Co-producing: University-Industry technology transfer and knowledge exchange
• Co-producing: Anchors Institutions and regional economic development
• Co-producing: Fostering Entrepreneurial Ecosystems
• Commercializing: Startups and Spinouts: challenges and best practices
• Commercializing: Early stage investment & (venture) funding
• Commercializing: Investing in Innovation: financing growth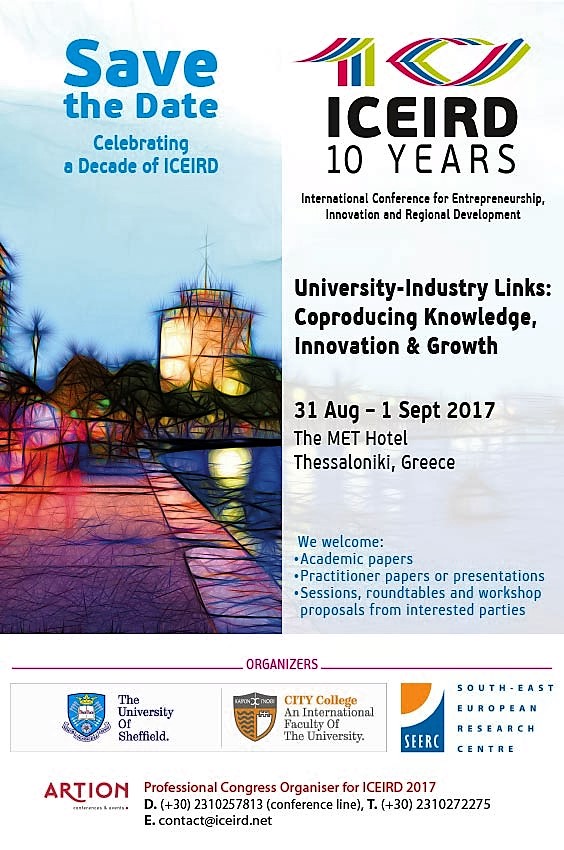 Source: ICEIRD2017
Scientifc field / Thematic focus
Cross-thematic/Interdisciplinary
Website
Event type
Conference in EU/international

Entry created by Anna Sirocco on November 9, 2016
Modified on December 30, 2016