"RRI Explained" - A new podcast series. Provided by the ResBios project
A series of interviews provided as a podcast informs about Responsible Research and Innovation and how it has an important function in bridging the gap between science and society with a particular focus on biosciences.
The field of bioscience has increasingly collided with the reality that most of us find ourselves in… with climate change, food security, health, and of course the COVID-19 pandemic, the biosciences affect us all on almost a daily basis. So it is important that scientists and researchers work hand in hand with society, to ensure that effective changes can be made to make the world a better place for all of us. Through Responsible Research and Innovation (RRI) science hopes to bridge this gap... but what exactly is RRI?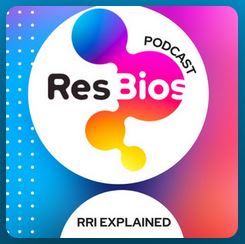 The podcast deals, among other aspects, with
citizen science
health care issues
ethics governance
education
gender equality in biosciences
open science
Listen to the podcast here: https://open.spotify.com/show/3xiw2oqtfMwWmvlRFurzg8
Document type
Practical Advice/Guide
Presentation
Geographical focus
General/no specific focus
Scientifc field / Thematic focus
Cross-thematic/Interdisciplinary
General
Medical and Health Sciences
Natural Sciences

Entry created by Elke Dall on June 8, 2022
Modified on June 8, 2022