DIATOMIC - 1st Open Call for Microelectronics Innovations
Publication date
March 15, 2018
Short description
The EU-funded network of digital innovation hubs DIATOMIC will distribute EUR 1.5 M to European SMEs, midcaps and Competence Centers. DIATOMIC is looking to accelerate development and adoption of new products/processes based on smart electronics and smart systems in health, agrifood, and manufacturing sectors. The call for applications is open from 15 March to 15 June.
Starting from 15 March 2018, DIATOMIC, a pan-European network of Digital Innovation Hubs, is looking to support innovative and scalable application experiments within advanced microelectronics (AME) technologies and smart system integration (SSI) domains. By bringing SMEs/midcaps and Competence Centres together, these experiments will result in quick, low-risk development of AME/SSI based products and processes.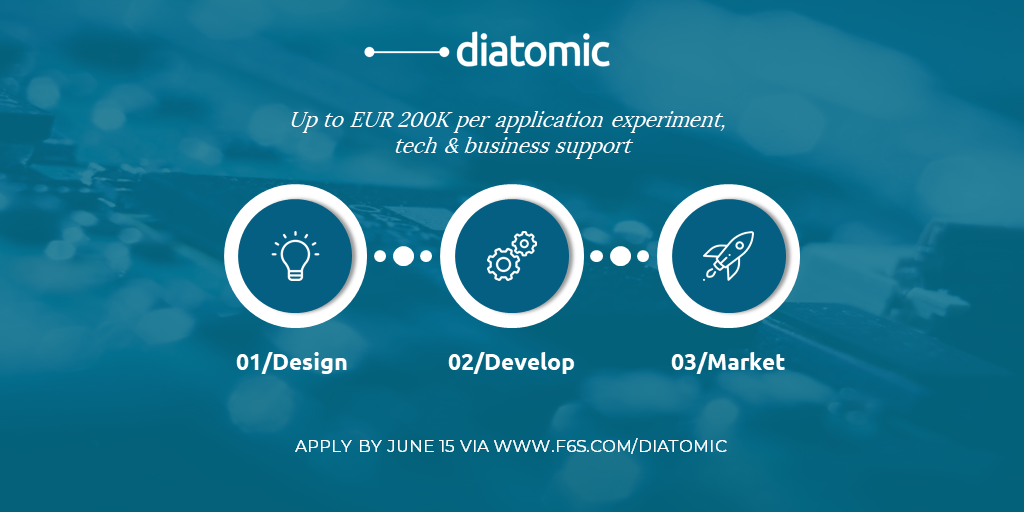 Small consortia consisting of 2 to 3 partners, from the EU and associated countries are invited to apply for up to €200,000 per application experiment. Microelectronics components and smart system integration are considered as an essential part of proposed technological concepts, starting from a Technology Readiness Level (TRL) of 3. In addition, consortia are requested to provide an initial exploitation plan for their experiments. Following selection and evaluation process, each experiment will enter DIATOMIC Design-Develop-Market program lasting between 9 and 15 months.
DIATOMIC offers up to €200.000 funding per project, including advanced technology testbeds, as well as tailored business support to fast-track design, development and prototyping of market-driven products and services.
Submission Details
Call opens: March 15th, 2018
Submission deadline: All submissions must be made by 12:00 PM CEST, June 15th, 2018
Electronic submission: Proposal should be submitted only via F6S www.f6s.com/diatomic
For Open Call documentation, visit diatomic.eu. To access matchmaking brokerage support, please refer to our helpdesk on F6S (www.f6s.com/diatomic).
Website
Scientifc field / Thematic focus
Agricultural Sciences
Engineering and Technology
Medical and Health Sciences
Related organisations

Entry created by Maja Zikic on April 11, 2018
Modified on April 12, 2018