[Call for papers] International Student Conference "Law and Society"
Publication date
May 11, 2016
Short description
This is the 4th Student Conference in Law and the 1st and only International Student Conference focused on LAW and Society. It comes after the last year's success of organizing the 1st National Student Conference in Albania. Like in other years, this year too, Participation Certificates will be accorded and a Professional Jury will select 5 best papers to which a price will be given.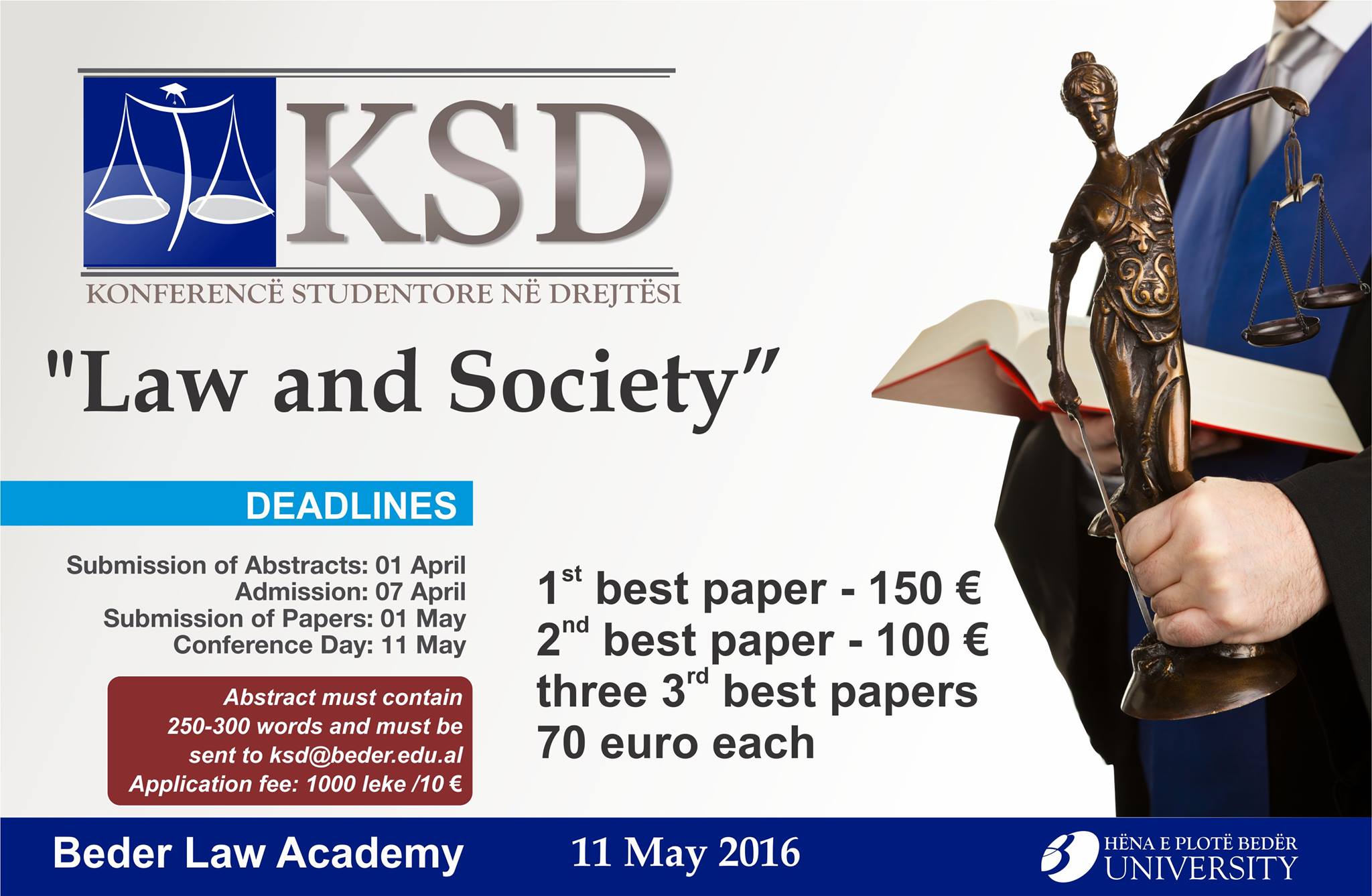 Below you will find the conference topics. For any further information please contact at email: ksd@beder.edu.al
International Protection of Human Rights
International Organizations and Global Governance
Human Security, Technology and Terrorism Threats
World Order and Immigration
Regulatory Role of Non-State Bodies
Litigation, Courts and Criminal Justice
Reforming the Laws
Effective Law Enforcement Methods
Education, Employment and Law
Law and Politics
Law and Media
Law and Religion
Law and Economy
Social Justice
Jurisprudential Studies
Civil Rights and Society
Gender Studies
Health Policy and Privacy
Deadlines and Procedures of the Conference:
1. Abstract Submission: 1 April 2016
2.Confirmation of Participation: 7 April 2016
3.Paper Submission: 1 May 2016
4.Payment of registration fee (1000 leke/10 Euro): 5-11 May
5. Conference Day: 11 May
The "Law and Society" student conference, provides an opportunity for focused study of interaction between law and society from an interdisciplinary perspective predominantly rooted in the social sciences and humanities: anthropology, comparative literature, economics, government, history, philosophy, politics, psychology, religion, science and technology studies, and sociology. It aims to bring together leading students, to exchange and share their experiences and research results about all aspect of Law and Society. It also provides the premier interdisciplinary forum for them, to present and discuss the most recent innovations, trends, and concerns, practical challenges encountered and the solutions adopted ...in the field of Law and Society.
All honorable social science students are kindly encouraged to contribute to and help shape the conference through submissions of their research abstracts and papers .Also, high-
quality research contributions describing original and unpublished results of conceptual, constructive, empirical, experimental, or theoretical work in all areas of Law and Society are cordially invited for presentation at the conference. The conference solicits contributions of abstracts and papers that address themes and topics of the conference, including figures, tables and references of novel research material.
Type
Interdisciplinary / cross-thematic
Geographical focus
Albania
Bosnia and Herzegovina
Croatia
Europe
European Union (EU 27)
International; Other
Kosovo*
Montenegro
Republic of North Macedonia
Serbia
Western Balkans
Scientifc field / Thematic focus
Cross-thematic/Interdisciplinary
Humanities
Social Sciences

Entry created by Elvis Gjeci on March 12, 2016
Modified on March 12, 2016