Research Project Administration
Administration of Projects, the so-called Project management (PM), was created more than 50 years ago to realize technical development and manufacturing projects of great complexity. This concept has developed over the years and is currently defined as a set of principles and activities to follow for making the everyday decisions that keep a business running, even a small scientific research project. More precisely, PM is a set of activities leading to the positive implementation ...
More related articles
Project management skills for a successful WBC integration in the ERA
BESTPRAC and Excellence-in-ReSTI
Project management skills and research administration competences are to be considered as one of the prerequisites for successful WBC integration into the ERA.
Sometimes young entrepreneurial-minded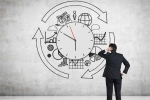 people are perceived as 'agents of change' in their own countries. Nevertheless these young managers still claim to be less well-versed in basics topics related to research project administration. Networks of research managers such as COST TN1302 BESTPRAC can play a key role in such a context and enable officers of the member societies to compare their national or regional issues, and to learn from each other as explained us Ms Andjela Pepic. As most frequently mentioned barriers, young project managers in RTDI field include the lack of proper training programmes, the need for more practical courses within higher education institutions, the missing links between academia, research and business sectors, etc. This is what moreover Mr. Gabor Szüdi – project coordinator of Excellence-in-RESTI (Excellence in research, social and technological innovation project management) reported us in an interview ....
READ MORE
Upcoming theme
Your project / research topic here!
You are currently implementing an interesting project of relevance for the Western Balkans? Perfect! Let us know about your research! We will support you to communicate the results of your research to relevant target groups! The WBC-RTI.info community is curious about new things! ...