The Alliance of Boundary Crossing for Deep Tech
Project
The ABCD Project aims to be a leading platform for innovation and deep tech entrepreneurship in the Western Balkans. It will foster an entrepreneurial mindset and support deep tech start-ups to thrive globally through effective collaboration with stakeholders and the local innovation ecosystem. By 2030, the Project aims to strengthen project management, promote capacity building, provide incubation services, establish strong connections with the local innovation ecosystem, and disseminate results effectively. The Project defined five specific objectives to achieve this vision, in line with the HEI Initiative Call 3.
The Western Balkans region has shown promising progress in recent years towards developing its innovation ecosystem and HEIs. There are some promising initiatives, including research centres, start-up incubators, and government-funded projects, which aim to foster innovation and technology-driven entrepreneurship in the region. Governments and international organisations have played a crucial role in providing financial and technical assistance to support these efforts. However, there are still significant challenges, including limited resources and infrastructure, which need to be addressed.
ABCD consortium consists of several universities and incubators from the Western Balkans and beyond.
Stakeholder engagement and partnership building to capacity building and dissemination of results, effective collaboration and management of the Project, promotion of an entrepreneurial mindset, and capacity building among students, faculty members, and staff will result in increased participation in incubation services and training programmes, ultimately supporting start-ups and enhancing their readiness for seed investment and participation in the EIT Accelerator programmes. Developing inter- and multi-disciplinary support structures and testbeds can facilitate innovation and collaboration between different units and departments within the institution, as well as with external partners. This can help to establish connections between the Project and the local innovation ecosystem, promoting the development of joint projects and the sharing of knowledge assets.
By working on five tailor-made work packages, the Project will make its fair share to fuel the activation and contribute to the Deep Tech Talent Initiative, whose objective is to train at least 1 million deep tech talents by 2025. The Project directly delivers training for a target audience of at least 986 talents. By signing up for the Deeptech Pledge, consortium partners commit to contributing to this goal even beyond the Project's timeline. Even assuming a moderate growth in the participant pool (10% increase in case of students upskilled and a 5% increase in the number of start-ups trained year on year) by 2030, the consortium is expected to contribute by training 8 347 talents.
The project is supported by EIT Climate-KIC.
Project Partners: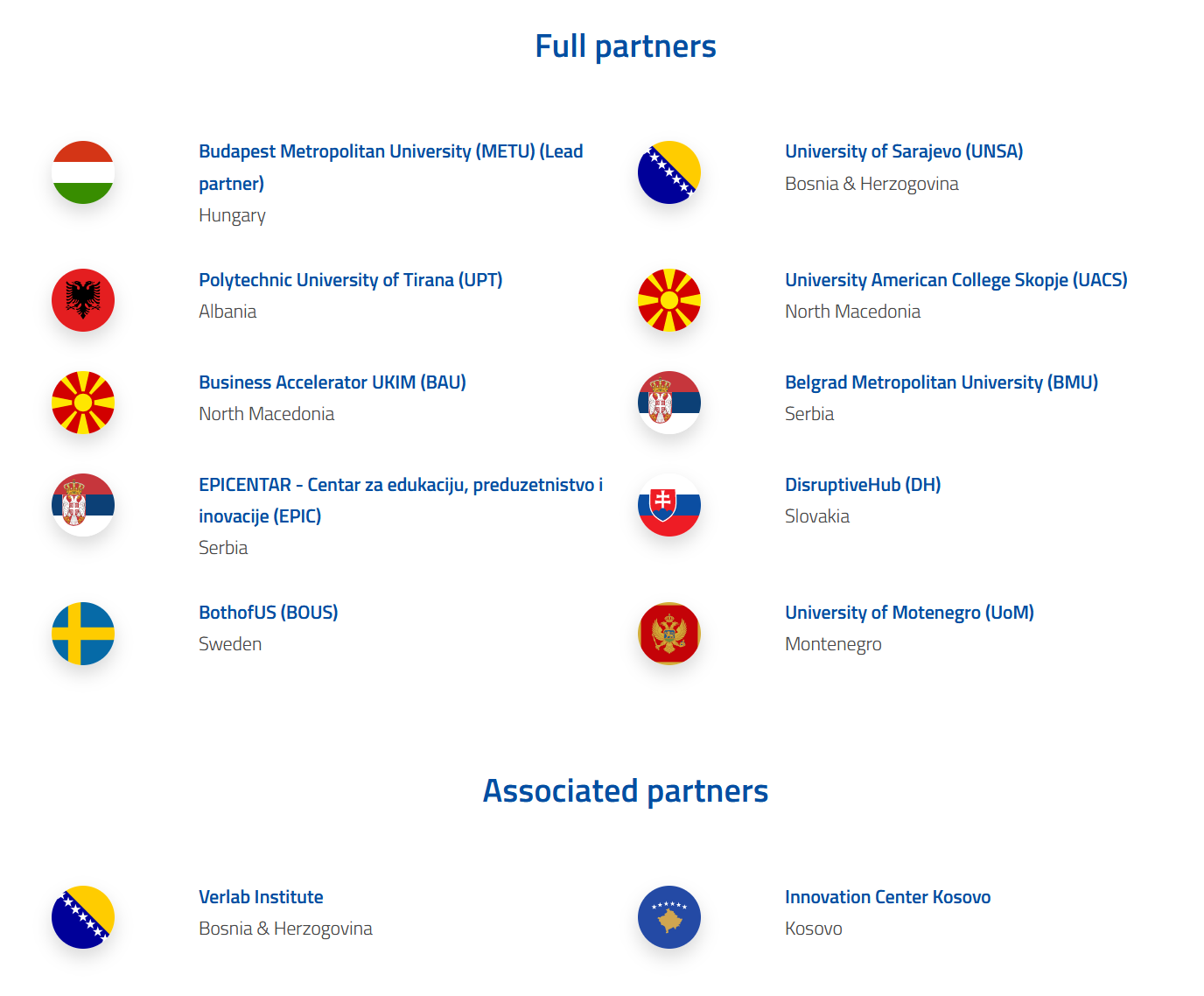 Country of the coordinating institution
Hungary
Geographical focus
Albania
Bosnia and Herzegovina
Kosovo*
Montenegro
Republic of North Macedonia
Serbia
Western Balkans
Scientifc field / Thematic focus
Cross-thematic/Interdisciplinary
Runtime
May 2023 - July 2024
Related organisations

Entry created by Admin WBC-RTI.info on August 22, 2023
Modified on September 13, 2023