Western Balkans partners successful in the 2023 EIT Higher Education Initiative
News
The European Institute of Innovation and Technology (EIT) has announced the 16 winning consortia of this year's EIT HEI Initiative. A total of 16 consortia from 38 countries were selected from a total of 48 consortia with 510 organizations that applied for funding. The successful consortia include 100 HEIs and 79 non-academic organizations and will receive up to EUR 12 million of funding to support their innovation capacity, with a particular focus on deep tech. With an even distribution of academic and non-academic organizations, the EIT HEI Initiative is determined to achieve its goal of creating synergies between industry and higher education institutions to boost innovation and entrepreneurship in Europe.
Organizations from the Western Balkans have been particularly successful, out of 16 winning consortia, five include partners from the region, and one is led by an institution from Bosnia and Herzegovina. All countries are represented as full or associated partners in these projects: Albania (2 full partners), Bosnia and Herzegovina (5 full + 2 associated partners), Kosovo (1 associated partner), Montenegro (1 full partner), North Macedonia (2 full partners) and Serbia (6 full + 2 associated partners). Read more about them on the EIT website and below.
ABCD The Alliance of Boundary Crossing for Deep Tech
The ABCD Project aims to be a leading platform for innovation and deep tech entrepreneurship in the Western Balkans. It will foster an entrepreneurial mindset and support deep tech start-ups to thrive globally through effective collaboration with stakeholders and the local innovation ecosystem.
The consortium focuses strongly on the Western Balkans, including partners from all WB6 - Albania (1), Bosnia and Herzegovina (2), Kosovo (1), Montenegro (1), North Macedonia (2) and Serbia (2), complemented by the coordinator from Hungary and partners from Slovakia and Sweden.
More information: https://eit-hei.eu/projects/abcd/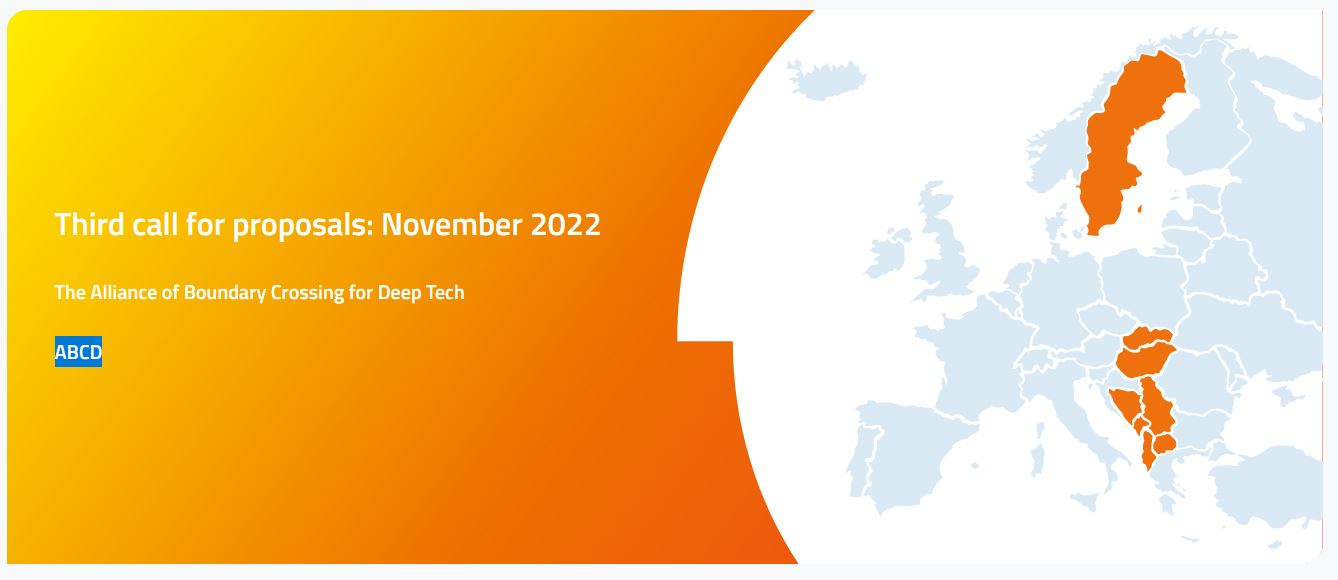 Full partners:
Budapest Metropolitan University (METU) (Lead partner) (Hungary)
University of Sarajevo (UNSA) (Bosnia & Herzegovina)
Polytechnic University of Tirana (UPT) (Albania)
University American College Skopje (UACS) (North Macedonia)
Business Accelerator UKIM (BAU) (North Macedonia)
Belgrad Metropolitan University (BMU) (Serbia)
EPICENTAR - Centar za edukaciju, preduzetnistvo i inovacije (EPIC) (Serbia)
DisruptiveHub (DH) (Slovakia)
BothofUS (BOUS) (Sweden)
University of Motenegro (UoM) (Montenegro)
Associated partners:
Verlab Institute (Bosnia & Herzegovina)
Innovation Center Kosovo (Kosovo)
DeepGreenInno - Deep Tech in Material Sciences: Greening the Balkan HEIs Innovation and Entrepreneurial Potential
The DeepGreenInno Project will contribute to the European Deep Tech Talent Initiative through capacity building of the five partnering HEI institutions in the East South East Europe (ESEE) countries (two in Bosnia and Herzegovina, one in Serbia, one in Bulgaria, and one in Albania).
More information: https://eit-hei.eu/projects/deepgreeninno/
The consortium is led by Bosnia & Herzegovina and includes partners from Albania, Serbia as well as Bulgaria, Italy and Greece.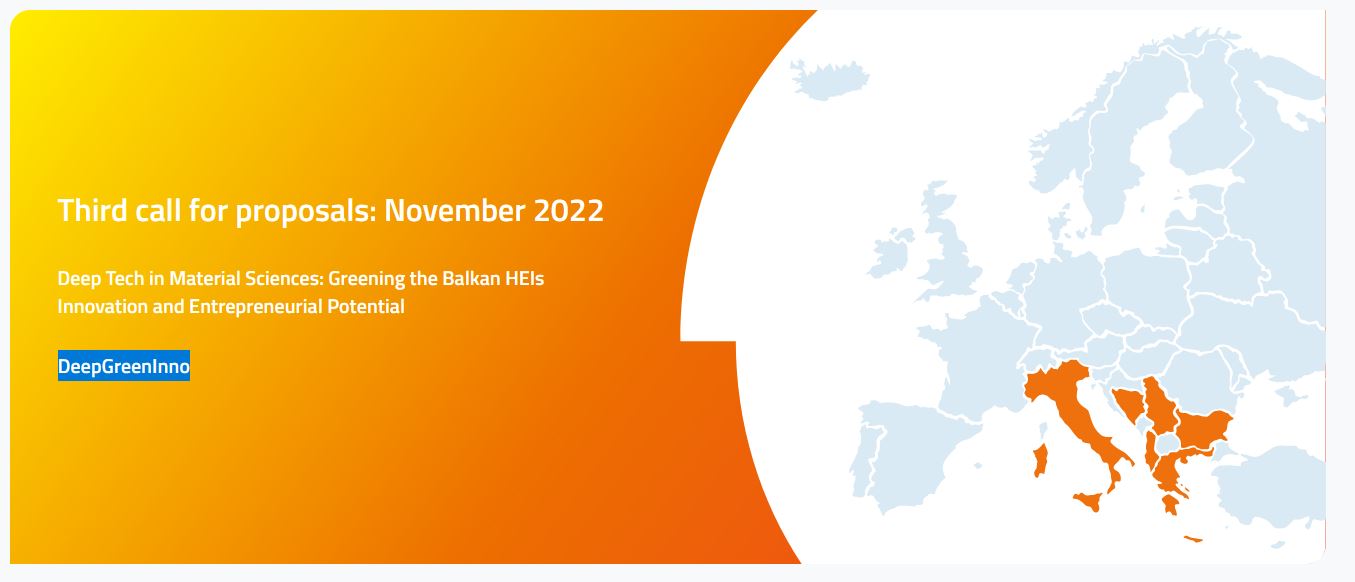 Full partners include:
University of Banja Luka (Lead Partner)
International University of Sarajevo (Bosnia and Herzegovina)
POLIS University (Albania)
Innovation Centre Banja Luka (Bosnia and Herzegovina)
University Union Nikola Tesla (Serbia)
Institute of Chemical Science and Technology "G. Natta" CNR (Italy)
Innovation Greece (Greece)
University of Ruse "Angel Kanchev" (Bulgaria)
Associated partners:
University of Novi Sad (Serbia)
Science and Technology Park Novi Sad (Serbia)
DeepTech-2M - Deep Tech Materials and Manufacturing Talent Development for an Improved EU Economy and Climate
Through the EIT Knowledge Triangle, interaction between business, education, innovation, and multi-disciplinary efforts of different stakeholders will be integrated to establish and support the deep tech innovation ecosystem in advanced materials and manufacturing (to further support green and smart manufacturing); AI and ML (including Industrial Internet of Things/Industry 5.0); biotechnology towards customised health solutions; sustainable green energy and clean technologies.
More information: https://eit-hei.eu/projects/deeptech-2m/
The consortium includes two partners from Serbia.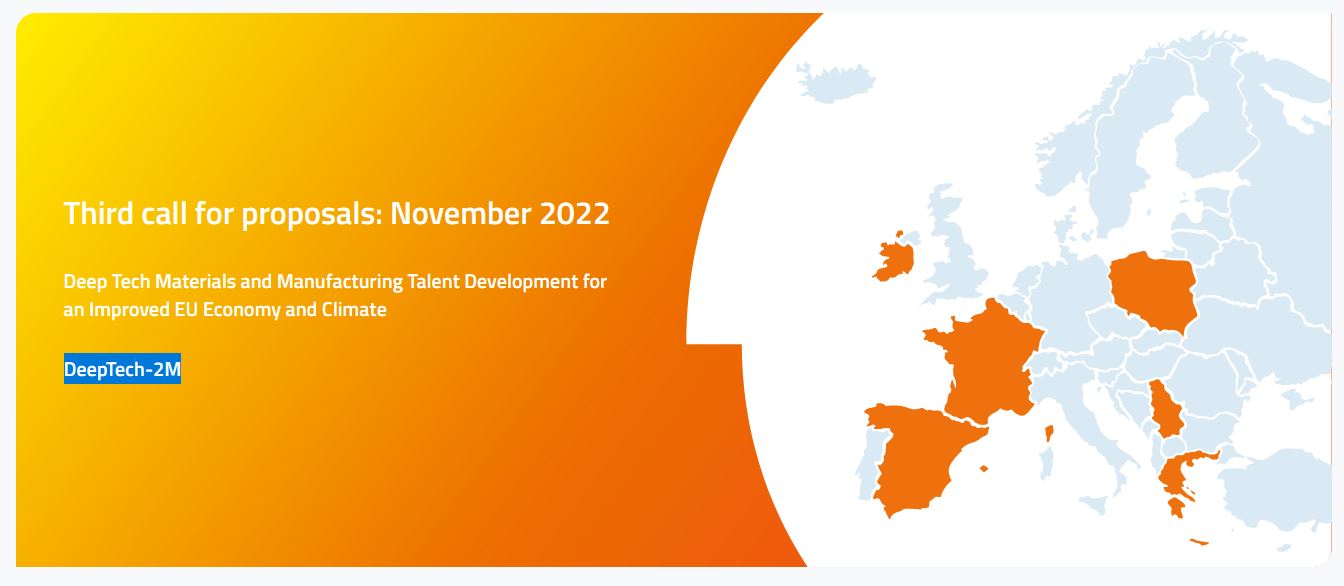 Full partners:
Dublin City University (Lead Partner)
University of Kragujevac (Serbia)
University of Ioannina (Greece)
University of Tours (France)
Mondragon Unibertsitatea (Spain)
Deep Trait S.A. (Poland)
Business Support Network (Serbia)
VISKA AUTOMATION SYSTEMS LIMITED (Ireland)
Associated partners:
STMicroelectronics (TOURS) SAS (France)
HEICE - Unlocking High Tech Entrepreneurship and Innovation Competences for Deep Tech Talents
The Project partners from Austria, Portugal, and Serbia aim to tailor innovative programmes for deep tech talents, focusing on the health and manufacturing fields, which fit the consortium Smart Specialisation Strategy (S3) base of all three regions, and are also some of the fields where Europe is still competitive but lacks an appropriate level of innovation (new knowledge in the market).
The consortium includes one partner from Serbia.
More information: https://eit-hei.eu/projects/heice/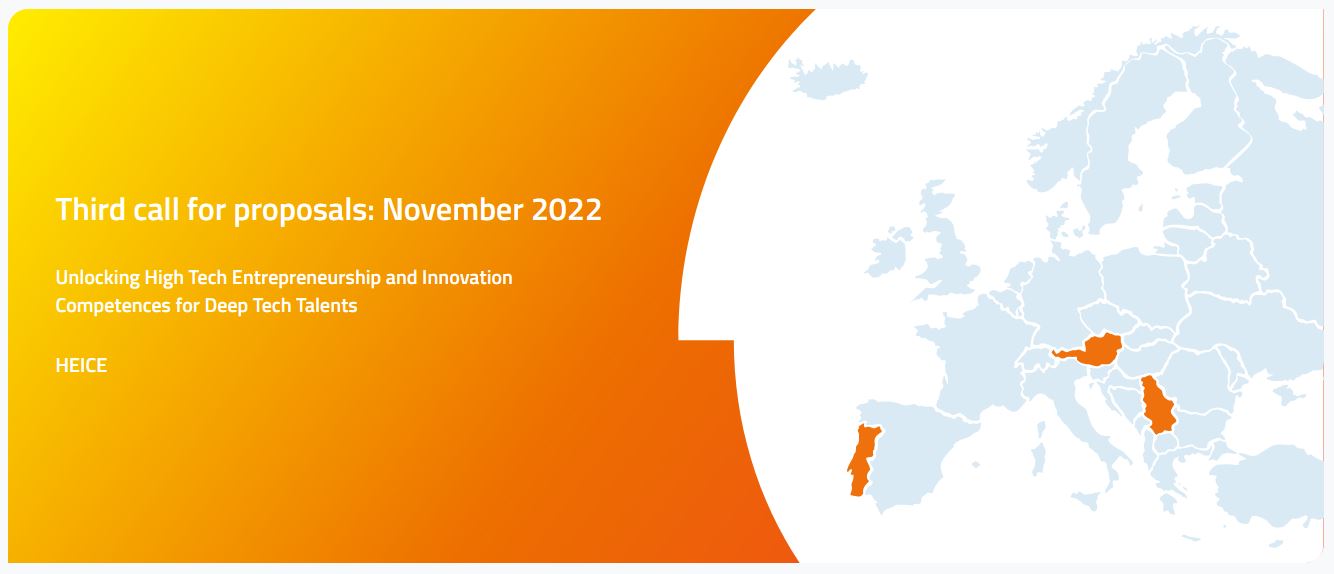 Full partners:
Technische Universität Graz (Lead Partner) (Austria)
Politécnico de Leiria (Portugal)
Academy of professional studies Sumadija, Serbia, (ASSS) (Serbia)
Gruendungsgarage (Austria)
Startup Leiria (Portugal)
Associated partners:
Augmentory (Austria)
Luminousred (Austria)
Sensimeter (Portugal)
European Crowdfunding Network AISBL (Portugal)
IGIP Austria (Austria)
European Professors of Industrial Engineering and Management (Austria)
Multivative GmbH (Austria)
DDL - Delft Digital Learning, Unipessoal Lda. (Portugal)
Lanbiotic GmbH (Austria)
SFFACCEL - Accelerating innovation across Regional Deep Tech Valleys in Europe
The aim of implementing SFFACCEL's vision and objectives is to create a sustainable model that endorses responsible entrepreneurs, innovators, start-ups, and spin-offs as the drivers of a future where technology and innovation serve people, society, and the planet using the UN SDGs and ESG as a framework for sustainable growth.
More information: https://eit-hei.eu/projects/sffaccel/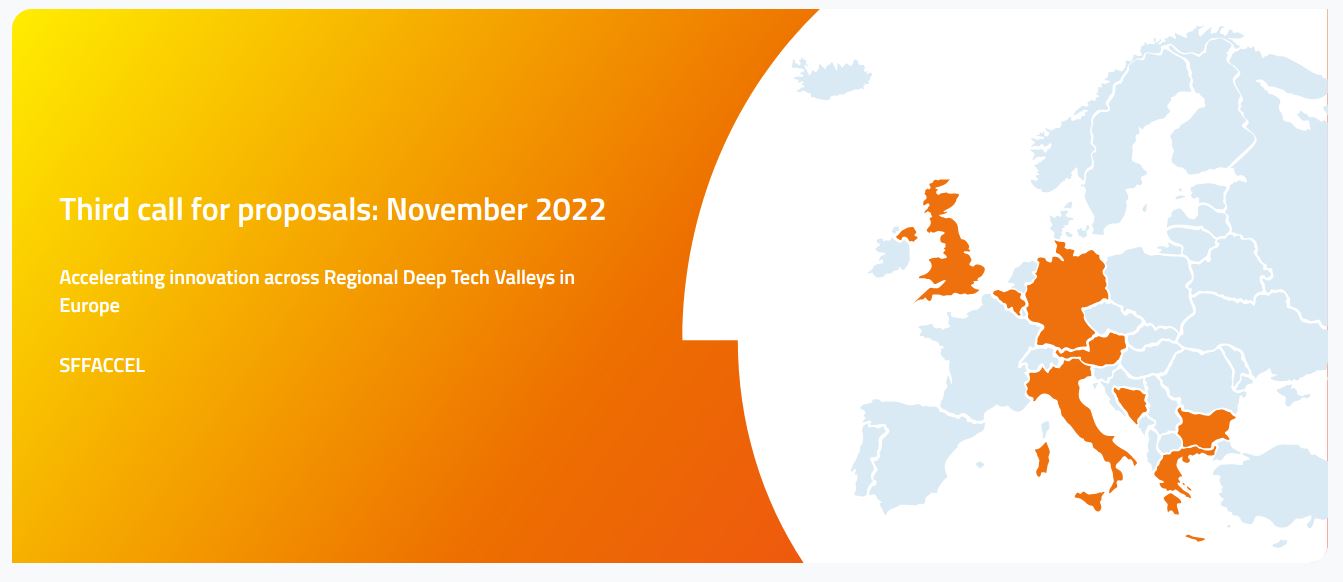 Full partners
Hochschule München University of Applied Sciences (Lead Partner) (Germany)
University of Macedonia (Greece)
Queen Margaret University (United Kingdom)
Ghent University (Belgium)
Athens University of Economics and Business Research Center (Greece)
The Edge: R&BD ltd. (Bulgaria)
Campus Wien - Verein zur Förderung des Fachhochschul-, Entwicklungs- und Forschungszentrums im Süden Wiens (Austria)
International Burch University (Bosnia & Herzegovina)
University of Applied Sciences Esslingen (Germany)
Libera Università di Bolzano (Italy)
TheVentury GmbH (Austria)
Università di Pisa (Italy)
Arteveldehogeschool (Belgium)
Associated partners
MUST GmbH- The Munich Innovation Ecosystem (Germany)
PowerHUB c.u (Czechia)
Junior Achievement Bulgaria (Bulgaria)
Industrial Automation d.o.o - DKR German Center for Robotics (Bosnia & Herzegovina)
More information about the EIT HEI initiative:
The EIT HEI Initiative aims at working together with universities and partners to boost knowledge in Deep Tech fields such as artificial intelligence, machine learning, and cleantech. The selected EIT HEI Initiative projects announced today, directly support the Deep Tech Talent Initiative, a new EIT flagship programme aiming at training 1 million deep tech talents by 2025.
Since being established, the EIT HEI Initiative has granted over EUR 55 million to support 260 HEIs and 100 non-academic organisations across Europe. These organisations have trained over 39 000 students, academic and non-academic staff on innovation and entrepreneurship and have supported over 900 start-ups and scale-ups.
For more information:
Geographical focus
Albania
Bosnia and Herzegovina
Europe
Kosovo*
Montenegro
Republic of North Macedonia
Serbia
Scientifc field / Thematic focus
Cross-thematic/Interdisciplinary
General

Entry created by Elke Dall on May 25, 2023
Modified on May 25, 2023