POLICY ANSWERS Capacity Building Kosovo: Industrial Policy
Event
Short description
POLICY ANSWERS supported a debate about the Draft Strategy for Industrial Development and Business Support in Kosovo. The event takes place online.
Description
See the agenda attached.
Following the activities in the framework of the implementation of the Capacity Building Program and with support of the project POLICY ANSWERS, the Riinvest Institute organized a round table discussion on the Draft Strategy for Industrial Development in Kosovo 2023-2030 as well as the new publication of the Vienna Institute for International Economic Studies (wiiw).
The document in methodological terms follows the so-called Enhancing the Quality of Industrial Policies model developed by UNIDO and GIZ and marks an advancement of policies, in favour of domestic supply and in favour of increasing domestic production.
The Riinvest Institute also participated in the discussions that preceded the drafting of the document. Contribution to the discussion of these documents was given by the project team (Alban Hashani, Muhamet Mustafa, Visar Vokrri), Branimir Jovanovic, from wiiw as well as (Petrit Gashi and Besnik Krasniqi professors in UP and Gresa Latifi professors at TUM in Munich).
It was found that the Document is coherent with other strategic documents at the national level, specifically the National Development Strategy but also with global ones such as the Sustainable Development Objectives. In addition, it has managed to create a link between the objectives with the pledges derived from the "Green Agenda", more specifically, promoting the district economy. Supporting strategic orientations related to the Green Agenda and Digitalisation, the Institute proposed to add activities and increase support, especially for digitization in terms of improving the competitiveness of businesses through digitization of business processes and transactions.
The Riinvest Institute also considered it a priority to empower and promote raising awareness of the necessity of strengthening research and innovation and to create better conditions for investment in research and development and innovation by businesses. It was suggested that even in the Action Plan for the implementation of this document the Ministry should cooperate with business associations and businesses that have already moved to a better stage of development, to stimulate the development of research activities in production sectors and their cooperation with academic institutions research in the country and beyond.
Subsequently, the Riinvest Institute will address these comments to MINT and will also be shared with the general public through social media.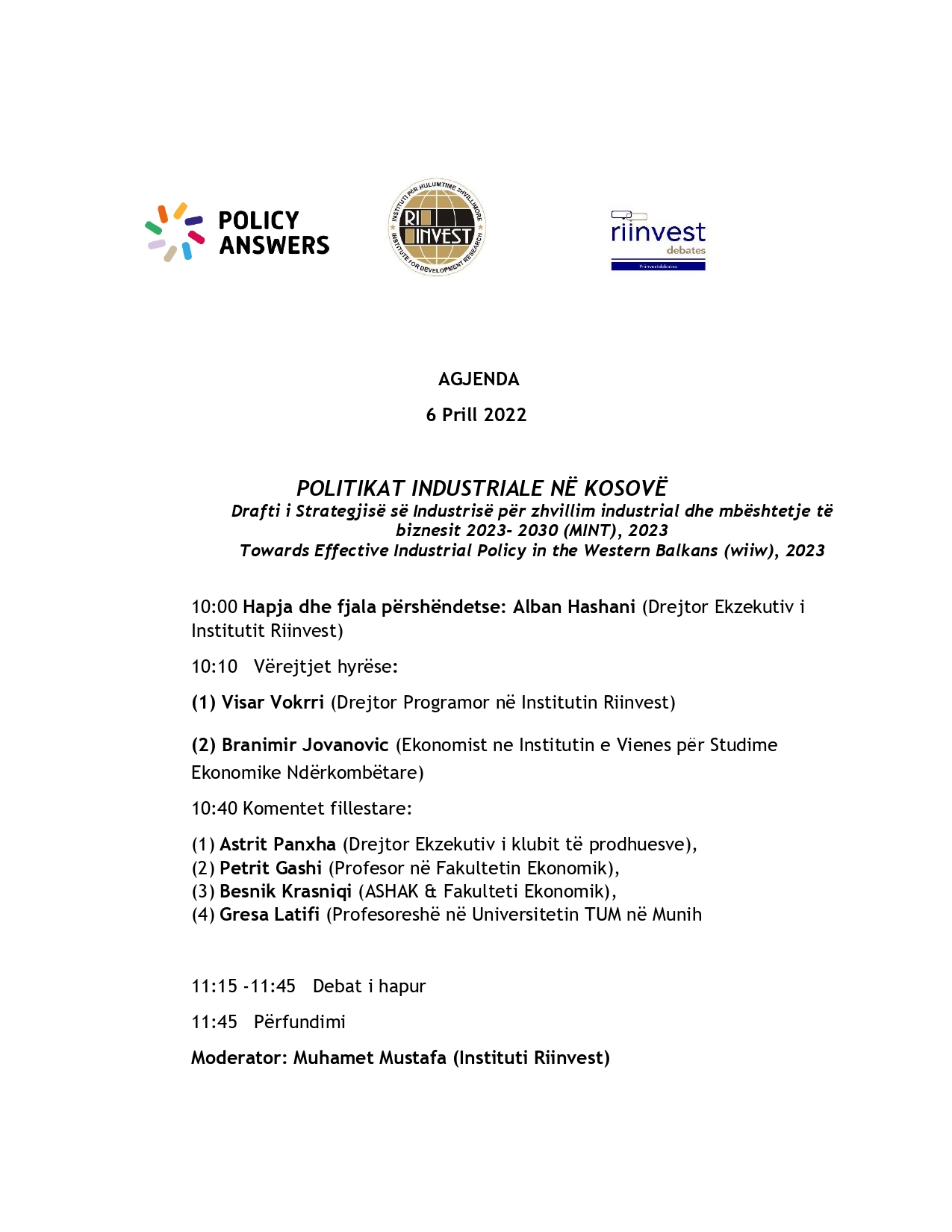 Scientifc field / Thematic focus

Entry created by Elke Dall on April 11, 2023
Modified on April 13, 2023