GREEN TRANSITION - Green Business Accelerator Programme in North Macedonia
Call
Publication date
June 1, 2022
Short description
The Green Business Ideas Accelerator Program is a free training and mentoring program specifically designed to support the so-called green entrepreneurs, towards creating sustainable circular business models. The participants in the program gain in-depth knowledge of the legal framework and the necessary work permits, how to define a circular business model for their business idea and how to use the opportunities for financing the so-called green technologies. The program will culminate with a presentation to potential investors, clients and associates. Upon completion of the program, participants will have the opportunity to present themselves at an international conference on circular economics to be organized in Skopje, as well as to apply to EBRD mentoring project programs.
All interested young people and entrepreneurs should register by filling out an application no later than July 2.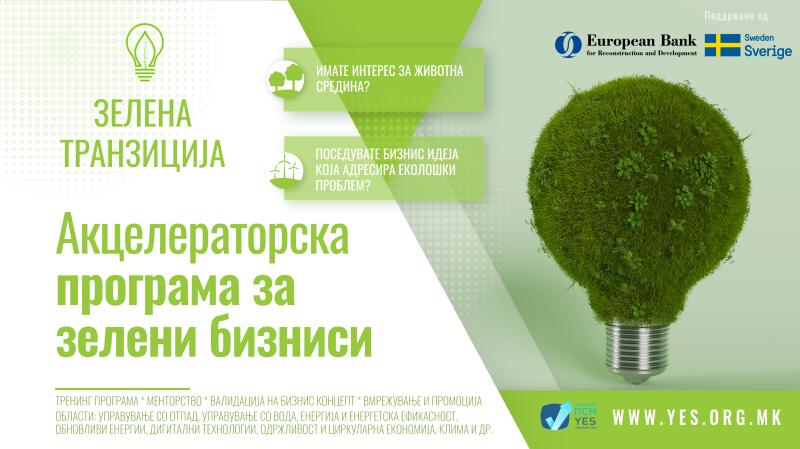 The programme offers:
Training program
Mentoring
Demo day
Networking and promotion
Thematic areas:
Waste, water and air management
Energy, renewable energies and energy efficiency
Digital technologies
Smart materials
Sustainability, circular economy
Recycling and refurbishment of materials
Climate change
The target group focuses on persons up to 35 years old who are owner / owners or manager / managers of companies working on business ideas or concepts with market potential in the field of environment, circular economy, climate, low carbon economy, etc. (without having any scope including military products and services, games of chance, tobacco and alcoholic beverages in the company).
Continuous participation and engagement in monitoring the programme are required.
More details about the training programme, guide for applicants and registration are available from the source page: http://yes.org.mk/Media/News.aspx?n=757&r=6&l=63&c=22
Geographical focus
Republic of North Macedonia
Scientifc field / Thematic focus
Agricultural Sciences
Cross-thematic/Interdisciplinary
Engineering and Technology
General
Humanities
Medical and Health Sciences
Natural Sciences
Social Sciences

Entry created by Elke Dall on June 20, 2022
Modified on June 20, 2022