[POLICY ANSWERS Event Review] "Participation in Horizon 2020 and the first applications and projects in the Horizon Europe program: experiences and lessons learned" in Banja Luka
News
POLICY ANSWERS was presented at the forum "Participation in Horizon 2020 and the first applications and projects in the Horizon Europe program: experiences and lessons learned", held on 2 June 2 2022, at the Rectorate of the University of Banja Luka (UNIBL).
Dragan Dragomirović from the Faculty of Philosophy University of Banja Luka presented POLICY ANSWERS R&I POLICY making, implementation ANd Support in the WEsteRn BalkanS at the forum on participation in Horizon 2020 and Horizon Europe dedicated to all employees at University of Banja Luka.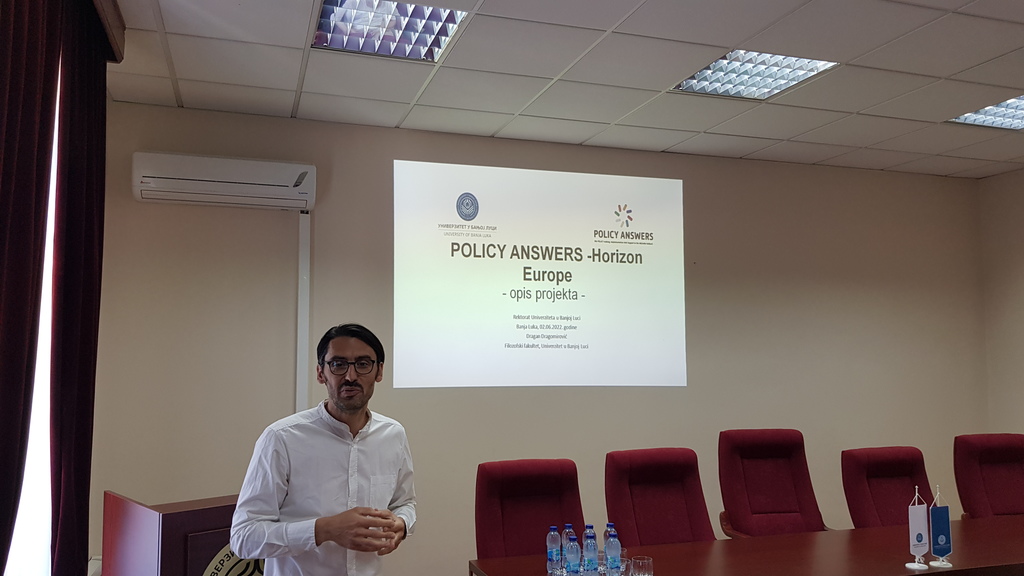 Useful information and experiences from colleagues already involved in these projects could be heard at the forum. Thus, among other things, colleagues presented their projects and shared the experiences they went through in the process of applying for these projects.
After the presentations of the projects, a discussion was held, with the aim of exchanging experiences in the preparation and implementation of projects, and highlighting the challenges that researchers at UNIBL face in this field.
This is another in a series of events dedicated to the Horizon Europe programme, organized by Andjela Pepic - Head of the Center for Entrepreneurship and Technology Transfer UNIBL. This forum was intended for all employees of our higher education institution who are interested in participating in Horizon projects.
For more information, see the following links: https://www.unibl.org/sr/vesti/2022/06/odrzan-forum-o-ucescu-u-horizont-projektima and https://www.linkedin.com/feed/update/urn:li:activity:6938118135778603009/?lipi=urn%3Ali%3Apage%3Ad_flagship3_profile_view_base_recent_activity_details_all%3BRKwtUmcoQLSgDlpQ0UjibA%3D%3D
Country
Bosnia and Herzegovina
Geographical focus
Bosnia and Herzegovina
Western Balkans
Scientifc field / Thematic focus

Entry created by Elke Dall on June 14, 2022
Modified on June 14, 2022