Data Hangout Belgrade
Event
Venue
Kralja Milana 10, Belgrade
Short description
Data Hangout is open access series of meetup workshops and discussions for people already working with data, or are just simply curious about what all the fuss is about. Data Hangout provides space for meaningful conversations or informal chats for data practitioners or those who are aspiring to be. Our motivation is to put ideas into action through the delivery of hands-on workshops. The Data Hangout takes place on June 15, 5:00 PM to 8:00 PM MESZ at the ICT Hub, Kralja Milana 10 in Belgrade.
Description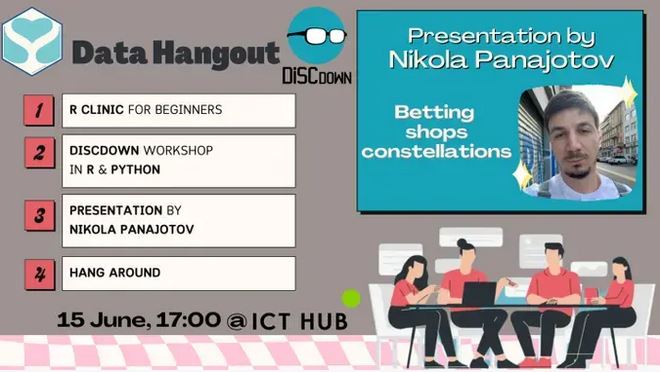 Data science can be intimidating. Especially so, when you are first embarking on your data adventure. Which tool to learn – R or Python? What statistical methods to learn? What are typical data problems you need to be familiar with? What techniques to focus on? Which statistical method is applicable to my problem? These are some of the many questions you will begin to answer as you begin your journey.
Irrespective of whether you're already a data scientist or data enthusiast, our Data Hangouts are here to inform, motivate and equip you to use data as part of your everyday language. In turn, this will empower you to make data more integral to your daily working practices and be more prolific, regardless of your educational background and profession.
The community shares learning from both successful and challenging experiences to assemble and deepens collective data science knowledge.
For this and similar events, please see the source page:
Scientifc field / Thematic focus
Cross-thematic/Interdisciplinary
Engineering and Technology
General

Entry created by Elke Dall on June 13, 2022
Modified on June 13, 2022