STOPPing Violence, Promoting Change: Mapping Perpetrator Programmes in the Western Balkans
Event
Short description
The event STOPPing Violence, Promoting Change: Mapping Perpetrator Programmes in the Western Balkans will take place on 16 June, from 10:00-11:15 CET online. It is held in English with simultaneous translation into Albanian – Kosovar, Bosnian – Montenegrin – Serbian, and Macedonian.
Description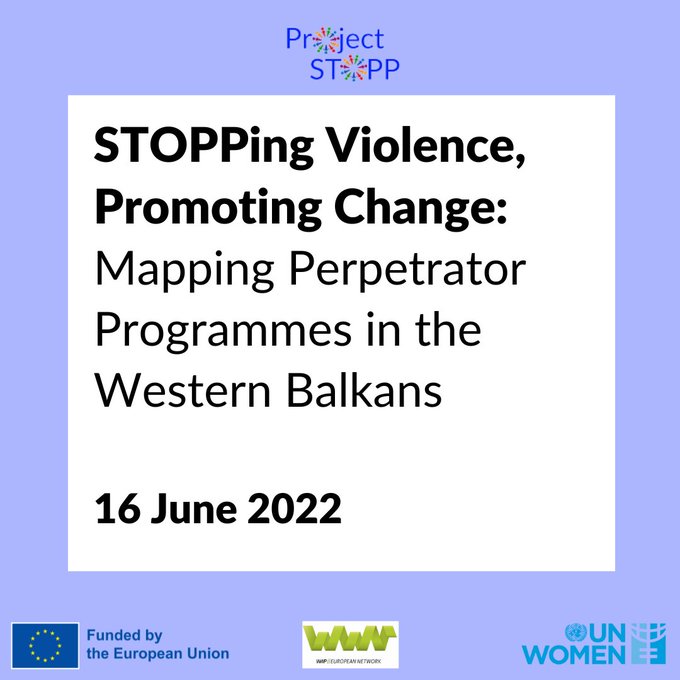 During this event, the organisers will present the
first-ever research on perpetrator programmes in the region
. The findings and recommendations offer significant insights to decision-makers, international donor organisations, NGOs, and other professionals working to fight domestic violence.
The report is the result of research done within the STOPP project - "Supporting the implementation of programmes for perpetrators of violence against women and domestic violence in Turkey and the Western Balkans". The project is run by the European Network for the Work with Perpetrators of Domestic Violence (WWP EN) in partnership with UN Women within the framework of the regional programme on ending violence against women in the Western Balkans and Turkey "Implementing Norms, Changing Minds," funded by the European Union.
Source of the information and for more information about the agenda and the link for registration please see: https://www.work-with-perpetrators.eu/events/webinars
Geographical focus
Albania
Bosnia and Herzegovina
Kosovo*
Montenegro
Republic of North Macedonia
Serbia
Western Balkans
Scientifc field / Thematic focus
Cross-thematic/Interdisciplinary
General
Humanities
Social Sciences

Entry created by Elke Dall on June 9, 2022
Modified on June 9, 2022