European Strategy Forum on Research Infrastructures - ESFRI
ESFRI was founded in 2002 for the purpose of further developing large-scale research facilities and research infrastructure networks in Europe in a strategy-driven and jointly coordinated process. ESFRI consists of delegates from the EU Member States and states associated with the EU Framework Programme for Research and Technological Development (such as the Western Balkan countries) along with a representative from the European Commission.
The ESFRI Roadmap lists the European research infrastructures to be jointly set up as well as projects of ESFRI already in the implementation phase (referred to as ESFRI Landmarks). It is updated approximately every two years in an iterative process. It covers areas of social sciences and humanities, the materials and physical sciences, the energy and engineering field as well as environmental, Earth and life sciences. These projects are very diverse in size and character. The European Commission hosts the ESFRI Secretariat and a Commission representative is a member of the Forum. ESFRI developed a sustainable legal entity to establish European research infrastructures, the so-called "European Research Infrastructure Consortia (ERIC)".
For the full, please always check the most updated sources on the ESFRI website.
In the 2021 version of the roadmap, the list included 22 ESFRI Projects and 41 ESFRI Landmarks: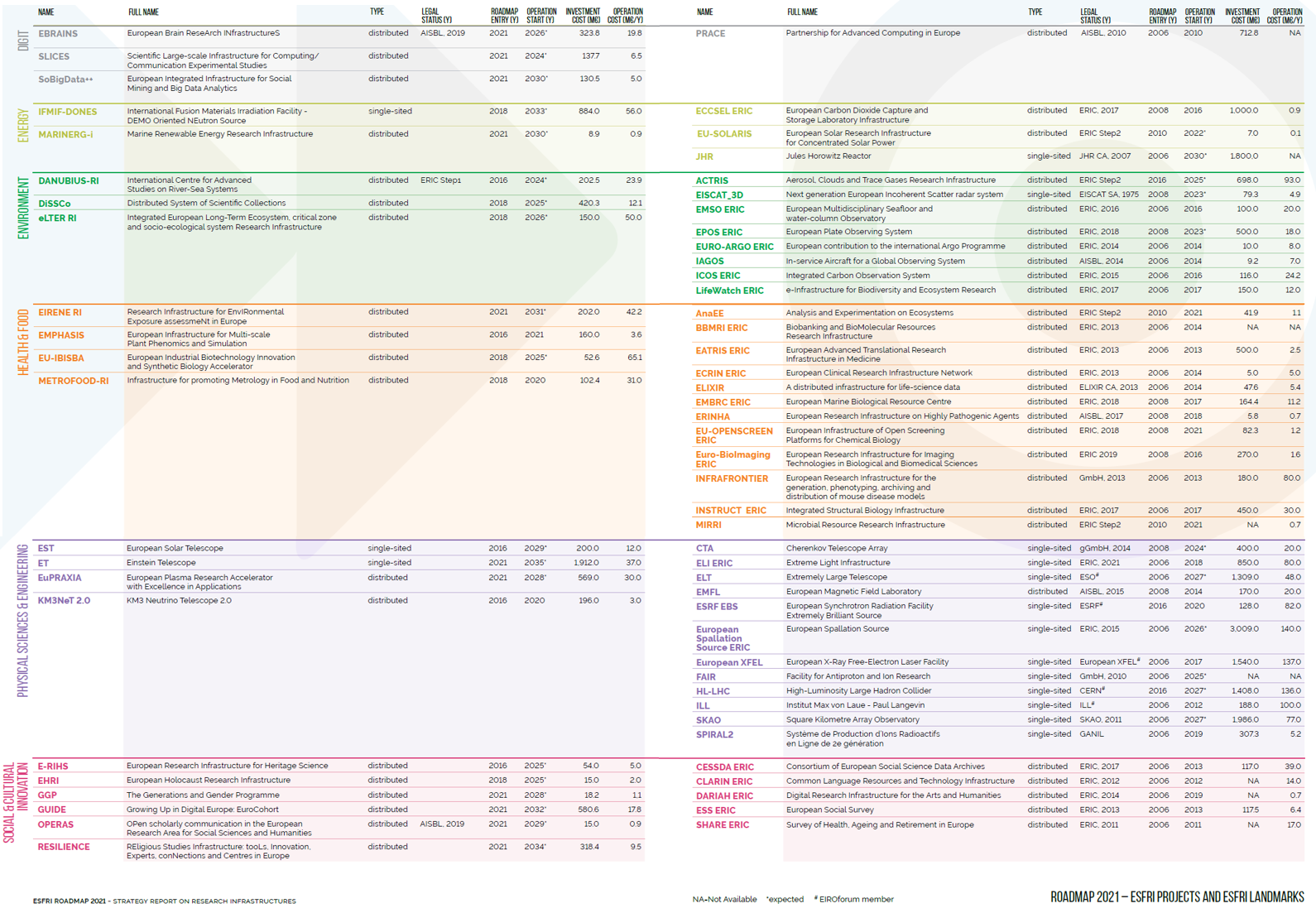 source: https://roadmap2021.esfri.eu/media/1250/rm21-part-1.pdf
Examples with participation from the Western Balkans are:
ESFRI Projects
EMPHASIS European Infrastructure for Multi-scale Plant Phenomics and Simulation
www.emphasis.plant-phenotyping.eu
with participation from Serbia
METROFOOD-RI Infrastructure for promoting Metrology in Food and Nutrition
www.metrofood.eu
with participation from North Macedonia
RESILIENCE REligious Studies Infrastructure: tooLs, Innovation, Experts, conNections and Centres in Europe
www.resilience-ri.eu
with participation from Albania and Bosnia Herzegovina
ESFRI Landmarks
HL-LHC High-Luminosity Large Hadron Collider
https://hilumilhc.web.cern.ch/
with participation from Serbia
CESSDA ERIC Consortium of European Social Science Data Archives
www.cessda.eu
with participation from North Macedonia and Serbia
DARIAH ERIC Digital Research Infrastructure for the Arts and Humanities
www.dariah.eu
with participation from Bosnia Herzegovina and Serbia
Another example of an ERIC of particular relevance for the region, a good practice is
CERIC
, Central European Research Infrastructure Consortium.
Projects added in 2021 are:
Link(s)